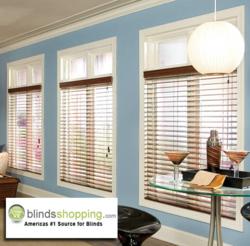 "According to Tim McGrath, a spokesperson for Blinds Shopping, The user experience on BlindsShopping.com is perhaps one of the most visually compelling and easy to navigate sites that I have visited in a long time. A great shopping experience!"
(PRWEB) May 26, 2011
The newly launched web site by BlindsShopping.com, through its unique design, offers tons of information on window treatments, window coverings, blinds, shutters and curtains blinds, educating consumers how to cut costs and providing them with the ultimate easy shopping experience.
The site is instrumental in successful product selection and guarantees customer satisfaction even to the connoisseurs of fine design. Do-it-yourself enthusiasts, eco-friendly aficionados and those inspired to do a home makeover can now bring the store to their home or office and enjoy a vast selection of products along with numerous money saving deals. Carrying a complete selection of over 30 different styles of products, including unique design, rare and specialty window treatments, makes us America's #1 source for blinds. Featuring various ways for finding numerous resources and news relevant to the industry, our new site addresses and satisfies the growing consumer demand for the latest products in the world of blinds. The site has a vast collection of industry articles, how-to articles, and topic-related video content for easy understanding of measuring and installation of any window treatment. The user experience is further enhanced by social media connections for consumers to communicate their findings to their friends or relatives.
Every page within BlindsShopping.com has unique and individualized per-topic news and videos on subjects such as design, functionality, installing, cleaning, latest deals, and offers a professional and entertaining insight to the consumers. These features have been designed to further assist and captivate an audience that is doing a home remodel, purchasing a new home or condo and needs window treatments that are customized to their own taste and budgets.
The greatest benefit to the consumers who shop at BlindsShopping.com is the vast savings they can enjoy. In addition to providing services for consumer homes, we deliver the same high quality window treatments commercially, for establishments in the business sector, such as hotels, hospitals, office buildings, and retail stores. These commercial orders have tremendous benefits through our deepest volume discounts of up to 90% off retail pricing compared to other vendors. The do-it-yourself installation is well worth the effort when discounts are as significant as in these offers. The installation of window treatments can be delivered by local handymen or even by office personnel, as instructions are easy to follow through our videos and customer support.
"According to Tim McGrath, a spokesperson for Blinds Shopping, The user experience on BlindsShopping.com is perhaps one of the most visually compelling and easy to navigate sites that I have visited in a long time. A great shopping experience!"
Blindshopping.com delivers and goes beyond most retailers through its unique approach that brings information together from hundreds of brands and retailer reviews through its news delivery service and through consumer blog reviews and ratings. These features create a valued unbiased approach to product information and product reviewing.
BlindsShopping.com is a national distributor that delivers to over 30,000 cities nationwide, except for the states of Alaska and Hawaii. All blinds, shutters, curtains, window treatments and window coverings are custom built per our customers orders and delivered to their doorstep within a few days of the order. Our customer satisfaction is our number one priority. All products are private-labeled, guaranteeing the highest quality, and assembled within the U.S.A. We pride ourselves delivering American goods. All products have limited lifetime manufacturers warranty, except for the curtains blinds using cords. Our latest line of cordless blinds, shutters and curtains have become one of the most popular consumers items. BlindsShopping.com offers easy online and phone support and checkout. Live chat is also available. Blinds Shopping.com distributes the latest information and news about window blinds, window treatments, blinds shutters, bamboo shades, levolor blinds, mini blinds and curtains.
For more information, please contact us at 866-927-8560 or visit us at: BlindsShopping.com
###