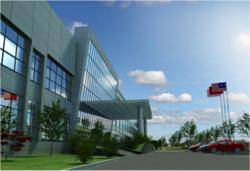 Ipoh, Malaysia (PRWEB) May 26, 2011
Carsem, a leading provider of turnkey packaging and test services to the semiconductor industry, announced today that they are expanding their Suzhou, China factory size by an additional 40,000 square meters (430,000 square feet). The ground breaking for the new facility expansion commenced in Q1 2011 and production operations are expected to begin in Q1 2012. The expansion will bring the total factory size to 56,000 square meters (600,000 square feet) and will allow Carsem to increase their Suzhou factory Micro Leadframe Package (MLP) capacity from the current 5 million units per day to over 20 million per day. The new expansion will be used to meet the future needs of Carsem's existing as well as new potential customers and will incorporate a major focus on copper wirebond expansion as well as the more traditional gold wirebond products.
The daily capacity expansion in assembly will be matched with an equal proportion of test capacity. This will bring Carsem's total MLP manufacturing capacity in both their Ipoh, Malaysia and Suzhou, China factory locations to over 26 million units per day.
Mr. Rick Flowers, Carsem's V.P. of World Wide Sales and Marketing stated, "We are continuing to see a tremendous rate of growth in the demand for our MLP package family and Carsem will continue to make major investments in our MLP capacity and related technologies in order to assure our customers of an uninterrupted supply."
Carsem MLP's are QFN (Quad Flat No-lead) and SON (Small Outline No-lead) type packages that are compliant to JEDEC's MO220 and MO229 standards and are also offered with enhanced technologies such as copper-clip, flip-chip, system-in-package as well as the extremely thin X3 version that is only 0.3mm thick.
About Carsem
Carsem is a leading provider of turnkey packaging and test services to the semiconductor industry, and offers one of the widest ranges of package & test portfolios in the world. To meet the growing demands of the telecommunications and wireless markets for smaller, faster, thermally-efficient devices, Carsem's portfolio includes many advanced technologies, such as the Micro Leadframe Package (MLP), Flip Chip On Leadframe (FCOL), an SiP (System-in-Package) Technology, Cavity-Package Motion and Pressure Sensor technologies as well as stacked-die capability. Carsem also offers a full range of turnkey test services for RF, mixed-signal, linear, digital and power devices. Our factories maintain world-class quality standards having achieved SAC Level 1, ISO-9001, ISO-14001, QS-9000, TS16949 certifications, and are supported with a global network of sales and engineering support offices. Carsem is a member of the Hong Leong Group with factories located in Ipoh, Malaysia, Suzhou, China and sales offices across the USA, the UK, China, Malaysia and Taiwan. Carsem, Inc. sales headquarters is located at 269 Mt. Hermon Road, Suite 104, Scotts Valley, CA 95066, phone (831) 438-6861, fax (831) 438-6863, web site: http://www.carsem.com.
###