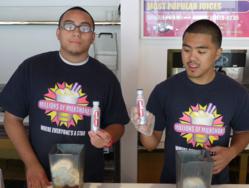 The secret is out and now the only hangovers we'll see around here on going to be on the big screen.
Hollywood, CA (PRWEB) May 26, 2011
As the newest Todd Phillips movie "The Hangover 2" is set to be released nationally on May 26th, there has never been a bigger eye on the hangover world. Companies such as GTOX® the Hangover Blocker hope to capitalize on the cult following of "The Hangover" movie series by partnering with Millions of Milkshakes, a trendy celebrity hangout in West Hollywood. "The buzz for the 'Hangover 2' movie couldn't be stronger," says Jackson Zapp VP of marketing for GTOX®, "I anticipate our partnership with Millions of Milkshakes will be a great success."
Millions of Milkshakes has been synonymous with the posh celebrity world for many years. Celebrities that have worked with Millions of Milkshakes include: Miley Cyrus, Shaquille O'Neal, Lindsay Lohan, Pamela Anderson, Kim Kardashian, and Leonardo DiCaprio just to name a few. Now the West Hollywood location is launching their newest shake, "the Hangover," just in time for the newest movie release. "The Hangover" shake is the only smoothie to mix GTOX®, a patented hangover shot, fresh berries, and delicious juices to make a healthy smoothie that prevents hangovers. "GTOX® essentially turns dehydrating alcohol toxins in your body into water soluble compounds so you get rid of them faster. When you mix that into a high vitamin, healthy smoothie it's the perfect end cap to the night" boasts Corey Crismon Marketing Director at Millions of Milkshakes. "The secret is out," he says, "and now the only hangovers we'll see around here on going to be on the big screen."
About GTOX®: Austin, Texas-based creators of GTOX® Applied Food Sciences, Inc. specialize in developing ingredients and technology for food and beverage products. For more info visit http://www.gtoxnow.com or http://www.facebook.com/gtoxnow.
About Millions of Milkshakes: West Hollywood location is 8910 Santa Monica Boulevard, West Hollywood, CA 90069. Open till midnight weekdays and 3am Friday and Saturday. For more info visit http://www.milkshakes.tv/