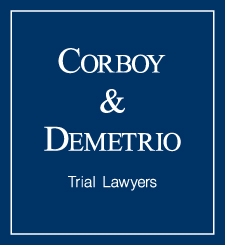 "The sad truth is that these painful, debilitating and disfiguring injuries should never have happened." said Dan Kirschner, a partner at Corboy & Demetrio.
Chicago, IL (PRWEB) May 24, 2011
A truck driver who suffered career-ending leg injuries in an industrial accident in Chicago received a $3.6 million settlement. The victim, 56-year-old Timothy McDonald, was represented by Corboy & Demetrio attorneys, Daniel S. Kirschner and Edward G. Willer.
Mr. McDonald was picking up a delivery at Imperial Zinc Corp. in 2007 when the forklift being used to load his trailer backed over him on the Imperial Zinc loading dock. The forklift operator was an employee of Imperial Zinc Corp. who, according to the lawsuit, was not properly trained or supervised in proper forklift operation. As a result of the incident, Mr. McDonald suffered a fractured right ankle, partial degloving of the top of his right foot, and a ruptured patellar tendon of his left knee.
"The sad truth is that these painful, debilitating and disfiguring injuries should never have happened. This settlement reflects the life altering impact that this event has had on Tim and his wife, Judy, and hopefully will restore some of the dignity taken from them," said Dan Kirschner, a partner at Corboy & Demetrio.
The accident was captured on videotape by a surveillance camera at Imperial Zinc Corp and became a key piece of evidence in the case. The lawsuit claimed that, in addition to improper training and supervising of its operation, Imperial Zinc and the forklift operator, Odorico Ortiz, violated basic OSHA rules.
"The supervisors failed to follow basic loading dock safety and allowed barrels of zinc to be stored in a manner which provided insufficient room for its forklifts to safely maneuver around pedestrians. Similarly, Ortiz failed to follow basic OSHA regulations which required that he look in the direction of, and keep a clear view of, the path of travel when operating a forklift. The lesson to be learned is that when corporations ignore fundamental dock and forklift safety practices, innocent people get seriously hurt," according to Edward G. Willer.
The settlement was the result of voluntary mediation conducted by retired judge Hon. Stuart A. Nudelman. The civil lawsuit, Timothy McDonald and Judith McDonald v. Imperial Zinc Corp. and Odorico Ortiz, was filed in Cook County Circuit Court in Illinois, Case 2009L1581. The case was dismissed by Judge Cook County Circuit Court Judge Kathy M. Flanagan on May 23, 2011.
About Corboy & Demetrio
Corboy & Demetrio is one of the nation's premier law firms. It represents individuals and their families in serious personal injury and wrongful death cases and is renowned for its achievements in the courtroom and for its contributions to the community. The rights and concerns of its clients are at the core of Corboy & Demetrio's practice. That commitment, dedication, compassion and relentless drive has resulted in exceptional service and exceptional results for its clients. The firm has acquired more than $3 billion in settlements and verdicts and has attained almost 600 settlements and verdicts in excess of $1 million. To talk to Dan, Ed or any other attorney at Corboy & Demetrio, call 312.346.3191 or toll free at 888.364.3191.
###