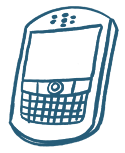 For many people, BlackBerry availability is now as crucial as wider email services and should be a key consideration in any business continuity strategy. We are delighted to have joined the BlackBerry Alliance Program
(PRWEB) May 31, 2011
The addition of this new email continuity service follows the recent launch of Mimecast Services for BlackBerry smartphones. The new service is the first to enable enterprise IT managers to provide uninterrupted email access to BlackBerry smartphone users in the event of a Microsoft Exchange outage or BlackBerry Enterprise Server failure. Until now, businesses have been limited in their range of continuity choices for the BlackBerry solution, relying on SaaS services that require the availability of BlackBerry Enterprise Server or server replication solutions.
Peter Bauer, founder and CEO of Mimecast, said: "With the BlackBerry solution and technology becoming ever more prevalent in modern enterprises, the need for a comprehensive, secure and reliable email continuity service is growing rapidly. Our own research recently revealed that just 44% of businesses with a BlackBerry Enterprise Server have any continuity strategy for the service. For many people, BlackBerry availability is now as crucial as wider email services and should be a key consideration in any business continuity strategy. We are delighted to have joined the BlackBerry Alliance Program and look forward to working closely with RIM to provide BlackBerry users and businesses with a seamless and watertight service."
Mimecast has been providing email archive, management and continuity services to hundreds of thousands of email users around the world over the last seven years. This is the first extension of the company's existing range of email disaster recovery services to mobile devices. With Mimecast, users are able to send and receive email and access their personal archive through a variety of mail clients including Microsoft Outlook (desktop), Mimecast Personal Portal (web) and BlackBerry smartphones in the event of scheduled or unplanned mail server outages or connectivity failures. This email continuity service ensures users are never left struggling to send and receive emails.
# # #