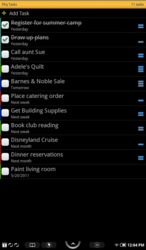 Los Gatos, CA (PRWEB) May 25, 2011
Mark/Space, Inc., the leading developer of phone and tablet synchronization solutions for PC and Mac, partnered with Barnes & Noble to contribute several popular titles in their launch of Nook Apps. In the Barnes & Noble May 16, 2011 announcement of reaching one million downloads in the first three weeks since launching the update to the popular eReader, they noted that three of their top five free downloadable applications are from Mark/Space, including Fliq Calendar, Fliq Notes and Fliq Tasks. The apps were ranked in the Top 5 Free Downloads list at 1, 2 and 5 respectively, at the time of the announcement.
"We partnered with Barnes and Noble to extend the capabilities of the Nook Color by providing apps that customers can use to help organize their lives." said Brian Scott Toney, Mark/Space Director of Sales and Business Development. "It's no wonder that our Fliq Calendar, Fliq Notes and Fliq Tasks apps are in the top five free downloads. When you add all of these capabilities together, they turn an already fantastic reading device into a full featured personal organizer."
Mark/Space offers a series of free apps to organize schedules, tasks, and notes. Fliq apps have long been available for iPhone, iPad and Android devices, and are now available optimized for the Nook Color.
Fliq Calendar provides the ability to keep track of a busy home, work, or personal schedule, viewing events and appointments in handy month, week, day or agenda views. Fliq Calendar can even be used to set alarms and reminders.
Fliq Tasks is a slick, all-in-one task management app that makes it simple to organize a "to do" list. The app will quickly create, edit, sort, colorize, categorize and password protect a list of tasks.
Fliq Notes is the ultimate free notes app for mobile devices that lets you easily create, edit, categorize, search, sort, save and share notes.
Sync to Desktop with The Missing Sync
When Nook Color owners purchase The Missing Sync for Android, Fliq apps on the device are then able to sync with popular PC and Mac desktop applications such as Outlook, and iCal. Thanks to Mark/Space Proximity Sync technology, desktop and device sync wirelessly and automatically whenever the devices are on the same Wi-Fi network, keeping calendar events, notes, and tasks up to date on both desktop and Nook.
PRICING AND AVAILABILITY
Fliq Calendar, Fliq Tasks and Fliq Notes are available as a free download direct on Nook Color.
The Missing Sync for Android is available as an electronic download from the Mark/Space online store for US$39.95 for Windows PC or Mac.
Read about device and OS requirements for specific features of The Missing Sync for Android at http://www.markspace.com/android.
ABOUT MARK/SPACE, INC.
Founded in 1990, the Los Gatos, California-based company Mark/Space, Inc., http://www.markspace.com, develops and markets award-winning mobile, desktop and cloud-based synchronization software, including Fliq, SyncTogether, GoGadget and The Missing Sync family of products that synchronize Windows and Mac computers with mobile devices, smartphones, readers and tablets from Apple, Barnes & Noble, HP, HTC, LG, Microsoft, Motorola, Nokia, Palm, RIM, Samsung, Sony, Sony Ericsson and others.
Follow Mark/Space on Twitter (http://twitter.com/themissingsync), and the Mark/Space blog (http://blog.markspace.com).
Nook Color and Nook Apps are trademarks of Barnes & Noble, Inc.
GoGadget, The Missing Sync and Proximity Sync are registered trademarks or trademarks of Mark/Space, Inc. Mac, iTunes, iPhoto, Safari and iCal are trademarks of Apple, Inc. Windows is a trademark of Microsoft, Inc. Other company and product names may be trademarks of their respective owners.
Press Contact: Brian Scott Toney
Mark/Space (408) 399-5300 #121
Nancy Brown
KRT Marketing (925) 284-6255
###