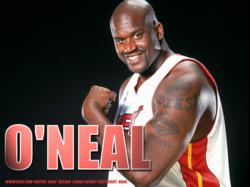 ...he could choose a CPAP Alternative, and benefit from an Oral Appliance like the Norad or Respire.
(PRWEB) May 26, 2011
A recent study with Harvard Medical School, including Dr. Atul Malhotra (Sleep Group Solutions leading Medical Advisor) and Shaquille O'Neal concluded in a diagnosis of OSA for the Celtics Center.  
The Greek word apnea literally means without breath.  Common in athletes,  their large statures make breathing more difficult during sleep.  With Shaq weighing in at 325 pounds and reaching over 7 feet in height, it's no wonder this superstar athlete snores and fights for breath during sleep.  "It usually happens when he's on his back."  confesses girlfriend Nikki "Hoopz" Alexander on Shaqs snoring, and sleep apnea.  Hoopz went on to discuss the severity of Shaqs' snoring and apnea, in an article published by Yahoo! Sports on May 21st.   
Dr. Atul Malhotra diagnosed Shaq with Moderate Sleep Apnea.  Shaquille O'Neal was prescribed a nasal CPAP to be worn at night, to keep his airway open, and flowing with oxygen.    In the Harvard Medical School interview, Shaq was instructed to use his CPAP each night, long term.  Other forms of treatment for OSA include oral appliance therapy.  Oral appliances such as EMA, Respire and the NORAD are other ways to treat OSA, without the CPAP.   Their function is to open and move forward the mandible (jaw) to allow for a more open airway.  Oral appliances have positive results to those with mild to moderate sleep apnea, and to those who are CPAP Intolerant (cannot tolerate CPAP).  Dr. Gelb, an expert in TMJ and breathing related sleep disorders says  "Its good Shaq got tested and is seeking treatment.  Since his sleep apnea is moderate, he could choose a CPAP Alternative, and benefit from an Oral Appliance like the Norad or Respire."
In an upcoming issue of The Sleep Magazine, a magazine focusing on the treatment and screening of OSA, an article discusses athletes being at an increased risk of having OSA.  More importantly, most athletes remain undiagnosed with OSA, which is more serious than the actual diagnosis (Percy Harvin, Earl Mitchell & Shaq mentioned in the article).  Untreated OSA has been linked to stroke, heart attack, high blood pressure, diabetes, irritability, daytime fatigue and more.  Lucky for Shaq, he was diagnosed early, and treatment will prove life saving.
Will Shaquille O'Neal be sporting a green and white Celtics themed oral appliance at bedtime?  Or will he choose the CPAP for therapy?  Follow Sleep Group Solutions to find the answer.  
About Sleep Group Solution
Sleep Group Solutions is an airway diagnostic technology company serving the needs of physicians and dentists interested in screening, diagnosing and treating sleep apnea and other upper airway disorders.  Sleep Group Solutions offers the latest screening and diagnostic equipment solutions for patients who present with allergy, sinus congestion, rhinitis, deviated septum, nasal polyps, snoring and sleep apnea. Most procedures are reimbursed by Medicare and private insurance.  SGS offers the most comprehensive dental sleep medicine CE seminars in the industry focused on teaching dentists the protocols needed to make the treatment of snoring and sleep apnea part of their practice.  SGS is the manufacturer of the Pharyngometer and the Rhinometer.
To View the Harvard Medical School interview, click here.
###