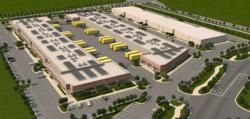 Englewood, CO (PRWEB) May 25, 2011
Latisys today announced that InnovoCommerce, a leading provider of Microsoft SharePoint®-based solutions to firms in highly regulated industries, will leverage Latisys' attainment of EU Safe Harbor Certification to support the rigorous requirements for managed hosting and data privacy of European pharmaceutical and life science-focused enterprises.
Latisys was selected as InnovoCommerce's managed hosting provider for its ability to support the stringent governance, risk management and compliance requirements life sciences customers must adhere to for managing documents, data, and collaborative processes in an FDA-compliant manner. The firm's participation in the U.S.-EU Safe Harbor Program and certification to display the TRUSTe® EU Safe Harbor Seal reaffirms Latisys' commitment to the highest levels of data privacy protection required by pharmaceutical and similar firms, and enhances InnovoCommerce's ability to serve European companies seeking to outsource IT infrastructure.
"As life sciences firms turn to cloud applications for regulatory compliance and improved business productivity, there exists a significant need – and opportunity – for managed hosting providers that can preserve data privacy whether the information is stored in the U.S. or European Union," said Tom Panarisi, Regional VP - West, Latisys. "Our Safe Harbor self-certification and growing partnership with a proven business collaboration solutions provider like InnovoCommerce creates a powerful offering for firms with international operations."
Latisys' managed hosting and IT infrastructure solutions enable life science-focused enterprises to maximize the business collaboration benefits of InnovoCommerce's Microsoft SharePoint®-based solutions. More specifically, global life sciences and pharmaceutical firms will benefit from:

Greater flexibility – Latisys' flexible and secure, high-performance Web hosting infrastructure environment delivers unmatched scalability to global life sciences customers looking to optimize their IT infrastructure by leveraging Latisys' investment in the latest infrastructure technologies.
More cost-effective operations – With state-of-the-art data center campuses across all four U.S. time zones, Latisys can provide global life sciences firms with multi-site redundancy at highly competitive pricing terms.
Qualified for FDA/GxP Compliance – Latisys data center facilities have been audited and deemed compliant by multiple pharmaceutical and life sciences firms.
"We evaluated several potential data center partners during the launch period of InnovoCommerce in 2008, and concluded Latisys was best suited to provide the managed hosting infrastructure for our leading clinical portal solution, innovoPOINT®," said Daniel O'Connor, Chief Business Officer, InnovoCommerce. "We selected Latisys for its partner-friendly environment, flexibility and market responsiveness, high-quality infrastructure and service levels, and overall dedication to partners and customers. We firmly believe this partnership provides a compelling service to global pharmaceutical companies seeking to gain efficiencies through outsourced technology solutions."
About Latisys
Latisys is a leading national provider of colocation, managed hosting, managed services, disaster recovery solutions and private cloud services to medium-sized businesses, enterprise customers and government agencies. With a heritage serving business customers since 1994, and multiple high-density, SAS70 Type II compliant data centers across the United States, Latisys offers scalable outsourced IT infrastructure management solutions that provide customers what they need, when they need it. The firm's new, state-of-the-art Tier III data center campus in Ashburn, Virginia compliments existing facility operations in Chicago, Denver and Irvine, California. As a data center-centric company, Latisys is quickly becoming the hosting and colocation company of choice for companies that demand more from their IT infrastructure partner. All while optimizing clients' return on investment. All while 'delivering more_'. Call 1-866-956-9594 or visit http://www.latisys.com for additional information.
###