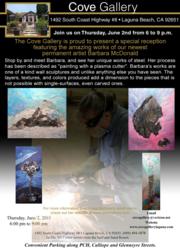 To me, fractal geometry unlocks one of the mysteries of how harmonic design is achieved naturally--without measuring tools.
Laguna Beach, CA (PRWEB) May 25, 2011
The Cove Gallery, Laguna Beach, CA, is presenting a special reception featuring the amazing works of its newest permanent artist, Barbara McDonald. Her work is a new art form, "impasto painting in steel"--using a plasma cutter as her brush.
Barbara's works are one-of-a-kind wall scuptures unlike anything else seen. The layers, textures and colors produced add a dimension that is not possible with single-surfaces, even carved ones. In discussing her work, Barbara commented, "There are many challenges to this medium – not least of which is the challenge of producing fluid, free-hand design with hard steel. In a sense, this kind of metal work involves 'playing with fire.' It holds much the same fascination."
The reception and exhibit will be held Thursday, June 2nd from 6-9 PM in conjunction with Laguna Beach's popular Art Walk that covers some 35 galleries in this well-known arts community. The Cove Gallery is located at 1492 South Coast Highway #8 (Tram Stop 3) in South Laguna--recently named "The Hip District" for its influx of original art galleries and innovative creative businesses.
Barbara's pieces are constructed in organic fashion. For her, the forms coalesce naturally into the organic shapes of living matter and, sometimes, distant worlds. Barbara believes that these forms are part of our genetic coding. They recur in art over the centuries and evoke a visceral response in the way that music strikes sympathetic chords.
In explaining the attraction of the organic stroke, Barbara quoted Kelleen Elizabeth Farrell's descripton of fractals, the basic geometry of her organic sculpture. "Fractals are the place where math, science and art come together. They visually demonstrate the relationships between disparate parts of the universe; they demonstrate the interdependence of all things in nature. They allow us to view the complexity of chaos and order." Barbara intuitively realizes those same patterns as she moves her "brushes" over and through the steel. "To me, fractal geometry unlocks one of the mysteries of how harmonic design is achieved naturally--without measuring tools."
She added, "There is something atavistic about working with the plasma cutter and the welders. I find myself thinking of iron-age humans and what it must have taken to discover ways of turning raw ore into hard steel. Those early iron and steel-workers must have felt some of the satisfaction I feel in just working with the material."
Barbara's work can be seen in two-dimensions on her website or in its fully-realized form at the Cove Gallery.
###