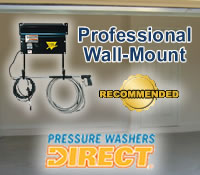 Wall mount pressure washers are perfect when you need to conserve space in areas like garages, restaurant kitchens or meat processing plants
Bolingbrook, Il (PRWEB) May 25, 2011
Today PressureWashersDirect.com released its recommendations for the best professional wall mount pressure washers.
"Wall mount pressure washers are perfect when you need to conserve space in areas like garages, restaurant kitchens or meat processing plants," said Bill Mikenis, resident product expert at Pressure Washers Direct. "These units are electric and don't release harmful fumes which makes them ideal for indoor use."
Most retailers are loyal to whatever is on their shelves, however, PressureWashersDirect.com isn't your ordinary retailer. The online superstore specializes exclusively in power washers and carries almost 300 types of pressure washers from top brands including BE, Briggs & Stratton, CamSpray, DeWalt, Pressure Pro and Simpson.
The online retailer combined recent sales history, customer reviews and personal insight to generate their final recommendations.
Once the dust and data settled, only 3 professional wall mount pressure washers sold by PressureWashersDirect.com were given their prestigious "Recommended" status.
###