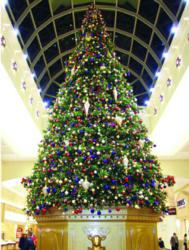 We're striving to provide our customers with the most efficient order processing possible, along with even more diverse product choices
Cheektowaga, NY (PRWEB) May 25, 2011
Christmas Central a multi-faceted online retailer, today announced that it has doubled its New York office and warehouse area, and added customer service personnel to accommodate an enlarged inventory and robust sales. These adjustments follow a twofold increase in the company's holiday orders alone over the previous year, as well as sizable expansions of both its home décor and Christmas product lines.
In its continuing effort to maintain quality customer service while offering a wide range of merchandise, ChristmasCentral.com recently acquired an additional 100,000-square-foot building and has nearly tripled its customer service workforce since early April. The company also reports 2011 to be the most extensive purchasing year in its history, which shoppers will realize over the next few months. "We're striving to provide our customers with the most efficient order processing possible, along with even more diverse product choices," said Nathan Gordon, Christmas Central co-founder. "We engineered our extended office and warehouse space with this in mind." Christmas Central will have double the ammount of products avialable for sale in 2011 then it did in 2010. "We will have the largest all around selection of Christmas Lights, Trees and Ornaments in stock and ready to ship this Christmas" said Gordon.
Many retailers, professional decorators, and organizations rely on ChristmasCentral.com to supply products in quantity. The broadened inventory ensures the ability to fill those large orders. Furthermore, to better handle volume sales and pass savings on to consumers, ChristmasCentral.com has reincarnated its predecessor, Merchant Overstock. Quantity discounts and wholesale buying options at MerchantOverstock.com apply to the entire stock available at ChristmasCentral.com.
About ChristmasCentral.com
ChristmasCentral.com is a division of Gordon Companies, Inc., a family owned and operated business founded in 1977. As one of the largest online retailers of Christmas merchandise and home décor, the company offers over 30,000 products, including many items exclusive to ChristmasCentral.com. Its colored Artificial Christmas trees have been featured on NBC's "The Today Show."
For more information, please visit http://www.ChristmasCentral.com or call 800-433-0038
###