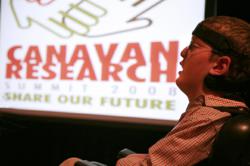 Being able to talk with the families and see the children who will hopefully benefit from their work will surely be an emotional experience and a powerful motivator.
Rye, NY (PRWEB) May 31, 2011
This weekend, June 3rd through 5th, Jacob's Cure will be holding its Canavan Disease Research Summit and Family Conference at the Renaissance Marriott in West Harrison, NY, with the goal of uniting researchers with the patients they aim to cure.
Jacob's Cure is a non-profit organization founded in 2000 by Jordana Holovach of Harrison, NY, to save her son, Jacob, who was diagnosed with Canavan Disease at six months old. Children with Canavan become trapped in their bodies, develop seizures, lose their ability to see and swallow and die by the first decade of life if untreated. However, the research funded by Jacob's Cure has slowed or halted the progression of the disease in most of the children who received gene therapy or started the recommended treatments.
The first Jacob's Cure Research Summit was held in 2008, and this year's summit will include many of the same scientists, as well as some new additions. One such addition is Dr. Yanhong Shi of City of Hope who recently was awarded a $1.7 million dollar grant by the California Institute of Regenerative Medicine to study the potential of induced pluripotent stem cells to treat Canavan disease.
The 2011 Research Summit received generous support from Geron Corp., a biotech whose HeSC cells are currently making news as the first stem cells used in a clinical trial for spinal cord injury. These cells are also being studied by Dr. Paola Leone of UMDNJ as a possible avenue of treatment for Canavan disease. Dr. Leone's research is expected to go to clinical trial in the next two years and is largely funded by Jacob's Cure.
The family conference component of the weekend, on the other hand, is brand new. Families from as far as Poland and Norway will be coming together for the first time to share their experiences with one another. Because Canavan disease is so rare, families are widely dispersed throughout the world, often making it impossible for them to connect. This conference will provide an opportunity to unite families for a weekend of hope and healing. "There are only a few children diagnosed with Canavan disease in Poland, but we would like this conference to be source of knowledge about the disease for all the families here and maybe an inspiration for finding a formula for meetings of the Polish families," said Monika Mączyńska, a Canavan mom from Poland.
Simultaneously, combining these two aims into one conference creates an opportunity to advance science by uniting the research community with the patients they aim to cure. "I am especially excited about the researchers meeting the Canavan families because it will humanize what they do in their labs ever day. Being able to talk with the families and see the children who will hopefully benefit from their work will surely be an emotional experience and a powerful motivator," explained Jacob's Cure Founder & Director, Jordana Holovach. "I hope the researchers will walk away from our weekend with a deep sense of appreciation for their hard work."
# # #