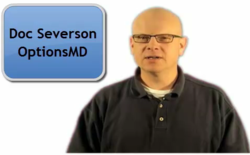 ... you'd be surprised at how much your life can change by just trying to bring in an extra $500, $5,000, $10,000 or more per month instead of just swinging for the fences.
Bingham Farms, MI (PRWEB) May 25, 2011
Doc Severson, a veteran trader since 1996, will unveil his widely anticipated OptionsMD Strategy Trading and Mentoring Program at 12:00noon ET on Wednesday, May 25, 2011.
Though thousands are expected to try their luck in securing a spot in Doc's Options trading program, he's made it clear that he'll only accept serious individuals who are willing to do what's necessary to succeed in trading and as his student.
According to Doc, "Too many people get wrapped up in the idea of turning $10,000 into a $1,000,000 in a year or consistently earning 100% plus learning some 'magic' formula, and this 'get-rich-quick' mentality is exactly what's preventing investors from making any real money in the markets."
Doc Severson became a phenomenon within certain elite trading circles just by his ability to breakdown seemingly complex trading strategies into a series of easy to understand trading systems designed to generate consistent monthly income.
"I've been laser-focused on protecting my money and finding safe, predictable ways to bring in a consistent monthly income without spending a lot of time behind my computer. A lot of people don't realize it, but you'd be surprised at how much your life can change by just trying to bring in an extra $500, $5,000, $10,000 or more per month instead of just swinging for the fences," says Doc.
In a recent document released on OptionsMD.com, Doc's "Income Pyramid" shreds the common misconception on diversification.
"Thousands of people and retirees lost 50% or more of their investment accounts when the market crashed in 2008 and most of these accounts were already diversified by traditional academic standards, but real diversification begins with the direction of the market so that you can take advantage of markets that go up, down and sideways without losing sleep over another market crash," Doc Severson explains.
Inside the OptionsMD program, Doc Severson delivers a step-by-step process every trader needs to know in order to succeed in such markets. In fact, for the first time ever, Doc reveals and fully discloses all of his favorite trading strategies inside the OptionsMD program.
The OptionsMD Program is strictly limiting enrollment due to the personal attention Doc's giving to the mentoring program and to his students and is expected to sell out soon.
ABOUT DOC SEVERSON:
Doc Severson has been investing in the market since 1996 and has been a full-time Options trader since 2006. In addition to his trading, he has been quietly mentoring students from around the world on how to create a consistent income trading options regardless of market direction. With growing demands from retirees and investors to learn his approach to the markets, he released the OptionsMD Strategy Trading and Mentoring Program.
ABOUT OPTIONSMD:
OptionsMD is the premier strategy and mentoring program for traders and investors who are tired of swinging for the fences and are looking for a means of developing consistent monthly income trading Options. The OptionsMD strategy and mentoring program is limited to a small group of participants and is open for enrollment only a few times per year. This is an interactive learning environment for beginner, intermediate and advanced traders building upon the skills needed for successful options trading all the way through the master and pro levels. The mentoring program also has many add-ons. For more information on OptionsMD, please visit http://www.OptionsMD.com.
For more information, please contact:
Doc Severson
OptionsMD
740-920-4019
doc(at)tradingconceptsinc(dot)com
# # #