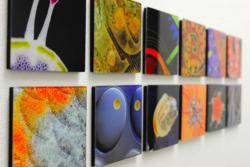 "We're excited to be changing the way consumers display their photographs one 'Fracture' at a time," said Abhi Lokesh, co-founder, Fracture. "Our customers have called Fractures the 'HDTV' of picture frames," said Alex Theodore, co-founder, Fracture.
Gainesville, FL (PRWEB) May 25, 2011
Young entrepreneurs Abhi Lokesh and Alex Theodore, founders and owners of Fracture, are completely changing the way consumers display their photographs one 'Fracture' at a time.
Lokesh and Theodore put their skills, knowledge, passion and experience together to create "fractures," a one-piece picture and frame made of printed glass that can be mounted to a wall quickly and easily.
Fracture simplifies the process of traditional printing and framing. Personal digital photographs are uploaded to the 'photo editor' section of the company website. Customers have the option of adding a variety of borders to their photos and may choose between portrait, landscape or square shapes. Fractures can be ordered in an assortment of sizes, with tailored dimensions, so the process of cropping is eliminated.
Once an order is placed, photos are printed in full, vivid color on smooth, natural glass, giving them a glossy, "high-definition" appearance. "Our customers have referred to Fractures as the 'HDTV' of picture frames." said Lokesh. "Since there are no sharp edges, Fractures are safer than traditional glass photo frames and are much less likely to shatter. Images won't fade and can't be scratched because the picture is actually printed on the back of the glass."
"Our parents' generation would print photographs and stuff them inside shoe boxes to collect dust for years, and our generation takes digital photographs and stores them on our computers and forgets about them for years" Lokesh said. "The problem is that neither of these methods allow people to display, share and enjoy their photos."
Fractures come with everything that is needed to mount these masterpieces on walls. Because of a simple and sleek black foam board that is attached to each Fracture, only one screw is needed for hanging and is included in the package.
Prices range from $8 to $35 and orders can be shipped to anywhere in the continental U.S. in about two weeks. In the unlikely event of fading or breaking, Fracture has a money-back lifetime guarantee.
Fracture's mission is to provide customers with the new standard in photo décor, centered on practicality and affordable elegance. Fracture is committed to being a part of the memories that our customers capture by offering an experience that is as customized and personal as the pictures themselves.
Visit http://www.FractureMe.com for information on how to "get Fractured."
###