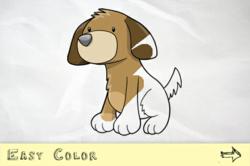 "This is by far the BEST coloring book app out there...I am surprised it took so long for such an effective yet simple coloring app to come out." - Customer Review
South Jordan, UT (PRWEB) May 25, 2011
At last, an iPhone app you can feel comfortable letting your toddler play, without having to help them every 20 seconds.
Easy Color is the first app by developer Nick Murray that aims to be the easiest app for toddlers age 12 – 36 months old to use. There is only one button that enables the user to proceed to the next coloring page. There is no picking colors, no connecting to Facebook or Twitter, no extra options, just coloring.
How easy is the coloring? A simple swipe of the finger "colors" the image. It's that easy!
Customers are already raving about the product saying, "This is a great app for little tiny people. I love that they can't get into settings and places to upgrade and buy things. Very simple, my 15 month old and 3 year old think it is super fun" (Customer Review by "Cutzietoo" on iTunes App Store).
Another customer "im_superman" states, "There are not tons of buttons, and places for kids to get lost while coloring. I am surprised it took so long for such an effective yet simple coloring app to come out."
Easy Color is available on the Apple App Store on your iPhone, iPad, or iPod touch.
Visit http://www.easycolorapp.com for more information.
###