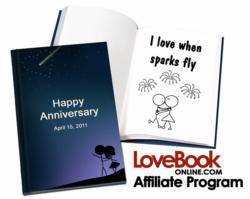 We're fully prepared to help all of our affiliates by developing close relationships with them...
Royal Oak, MI (PRWEB) May 25, 2011
LoveBook, the customized gift book that says why you love someone, has joined forces with affiliate marketing company ShareASale. The new affiliate program will provide affiliate marketers the opportunity to promote the LoveBooks product online using a series of banner ads and text links.
The new LoveBook Affiliate Program is focusing on affiliates involved in multiple categories, such as love, relationships, romance, gift-giving and anniversaries, just to name a few.
"We've always experienced a great response from bloggers and online merchants that we felt an affiliate program would be a great way to help them boost revenue," said Chris Sonjeow, co-founder of LoveBook, LLC. "We're excited to help our affiliates by developing close relationships with them and custom solutions. With ShareASale helping us make that connection, we know that our affiliates will be taken care of."
Through the program, affiliates will receive 15% commission on the price of a LoveBook. "The commission rates for LoveBook are very competitive in the industry. We're confident in the success of our new affiliate program because of the unique nature of our product."
New banner creatives and links will be added regularly. Special holiday and occasion banners will also be added as the events grow closer. LoveBook also plans on releasing a monthly affiliate newsletter keeping everyone informed of upcoming offers.
LoveBookOnline.com is a flash enabled website that allows users to create gift books that list all the reasons why you love someone. Each page shows a single reason and is accompanied by a small stick figure drawing to help illustrate your message. Each page can be customized to fit your particular brand of love.
Founded in November 2007, the mission of LoveBook, LLC is to give people a way to easily express the most powerful human emotion: Love. LoveBookOnline.com is a web application that allows users to create, edit, publish and purchase the specialized gift books called LoveBooks. LoveBook, LLC is a privately held company and is headquartered in Royal Oak, Michigan.
LoveBook Online Affiliate Program
###