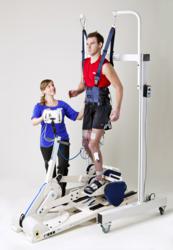 The RT600 is the first therapy system to bring the established benefits of FES to weight supported stepping for people with neurological impairments
Baltimore, MD (PRWEB) May 31, 2011
Restorative Therapies, Inc., advances its new era in physical therapy systems for neurological injury and paralysis with FDA clearance of the world's first Functional Electrical Stimulation (FES) rehabilitation therapy system for stepping and standing.
FES is a physical therapy rehabilitation modality used to evoke physical activity and exercise not otherwise possible for individuals with a neurological impairment such as a spinal cord injury, stroke, multiple sclerosis or cerebral palsy. The new RT600 system delivers electrical currents to stimulate nerves which activate core and leg muscles including the quadriceps, hamstrings, gluteals, gastroc, anterior tibialis, abdominals and erector spinae to evoke stepping and standing activity. This rehabilitation enables a patient's paralyzed or weak legs to move through patterned physical activity utilizing their own muscles while safely positioned in a partial body weight supporting harness.
"The RT600 is the first physical therapy system to bring the established benefits of FES to weight supported stepping for people with neurological impairments" said Prof. David Ditor of Brock University, in Ontario, Canada.
"It is the first truly practical rehabilitation system of this kind that I have seen. In addition to combining several valuable neuro-rehabilitation interventions, functional electrical stimulation, locomotor gait training and neuromuscular re-education, the RT600 is small and easy enough to use that I can one day envision it in the patient's home," said Cristina Sadowsky of the Kennedy Krieger Institute in Baltimore, Maryland.
"In the context of rehabilitation influencing neural plasticity as a means for neural restoration, training in the home setting is an essential component of progress and I see the RT600 as a great tool in achieving this," concludes Sadowsky.
"The RT600 system utilizes all of the popular RT300 FES cycle's great features including personalized muscle selection, dynamic motor support, secure Internet connectivity and physical therapy clinic ease of use." says Andrew Barriskill, CEO of Restorative Therapies. "We are excited to be introducing this world first therapy to a large group of patients who currently have limited physical activity options."
RT600 FES for Stepping is the latest result of Restorative Therapies commitment to ongoing development of FES powered physical therapy systems designed to help people with neurological impairments maximize their recovery potential.
The RT600 is now also available in Europe, Canada and Australia.
About Restorative Therapies, Inc.
Restorative Therapies (http://www.restorative-therapies.com), is a privately held company headquartered in Baltimore, Md., whose mission is to help people with a neurological impairment achieve their full recovery potential. Restorative Therapies is one of the first companies to target activity-based physical therapy and FES as a rehabilitation therapy for immobility associated with paralysis such as stroke, multiple sclerosis and spinal cord injury.
For further information please call 800 609-9166 option 1.
Contact
Judy Kline
jkline(at)rt600(dot)com
800 609 9166
###