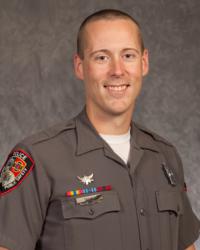 Joplin, MO (PRWEB) May 24, 2011
Following is information currently available regarding Officer Jeff Taylor of the Riverside, MO, Police Department, who was injured Monday during disaster response in Joplin, MO:

Officer Taylor was injured after returning to a command post. He was standing next to a Riverside all-terrain vehicle when lightning struck the ground beside him. He was transported immediately to an area hospital and was reported to be in critical condition. Family members and Riverside officers are at his side.
Officer Taylor, 31, joined the Riverside Police Department in 2005. He served on the department's K-9 Unit from 2007 to 2010. He previously served on the Webb City, Mo., Police Department, located near Joplin, Mo.
Officer Taylor's family has asked for privacy at this time.
Officer Taylor was part of Riverside's 12-member contingent of police officers, firefighters and public works staff members who responded to the Joplin tornado disaster.
Additional information will be made available when it is known.
Riverside, Mo., population approximately 3,000, is located just north of downtown Kansas City, Mo., approximately 160 miles north of Joplin.
Media with inquiries are asked to contact Meredith Hauck, Riverside Public Information Officer, mobile or text 816-739-3676, mhauck(at)riversidemo(dot)com.
###