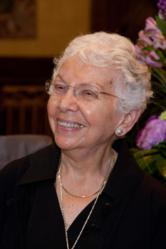 "Sr. Rita is an inspiration to women and men. Her leadership, compassion, conviction, and ability to get things done are amazing," said Deborah Stearns.
Norfolk, Virginia (PRWEB) May 26, 2011
Sr. Rita Thomas, CBS, was presented with the YWCA of South Hampton Roads' Women of Distinction Award during an afternoon luncheon on April 21, 2011. This year marks the 23rd year for this prestigious award which honored thirteen women in various categories including education, law, arts, and medicine. Sister Rita received the award for her extensive work in the medical field.
The Women of Distinction Award recipients must exhibit a high degree of professionalism and leadership, demonstrate a commitment to the South Hampton Roads community, impact their community in the course of their volunteer or civic activities, and embody the YWCA's mission.
Sr. Rita was nominated for the Women of Distinction Award for her work as past Board and Mission President of Bon Secours Richmond Health System. She currently serves as a member of the Board of Directors of the Bon Secours Hampton Roads Health System. Fellow board member, Deborah Stearns nominated Sr. Rita for this award and explained "Sr. Rita is an inspiration to women and men. Her leadership, compassion, conviction, and ability to get things done are amazing. She is my role model."
Women are considered for this distinguished award after being nominated by someone who speaks highly of their community work, leadership experience, and ability to empower other women. This year 57 nominations were evaluated by the 12 committee members. Sr. Rita was the outstanding recipient for the Medicine category. Committee Co-Chair, Elaina L. Davis, shared that "Sr. Rita is clearly a woman of distinction. We are happy and excited she could receive this award."
Sr. Rita's years of service in the medical field have exemplified the goals and mission of the YWCA. She began her health care career as a registered nurse and has since served in a number of positions in the Bon Secours Health System, including chief executive officer of Bon Secours Maryview, Portsmouth, VA and St. Mary's Hospital, Richmond, VA. During her time in Hampton Roads, she has worked to further community outreach and development in the local area while helping the hospital grow into a successful regional health care center.
Sr. Rita also received the Catholic Health Association's Lifetime Achievement Award, another prestigious honor, at their annual conference in 2010. This award honored her achievements in the health and medical community and highlighted her work during the 1960's when she helped plan and open the first fully integrated hospital in Richmond, VA. Sr. Rita has been instrumental in the success of the Bon Secours Health System and continues to support the organization in her ministry as a Sister of Bon Secours, a Catholic religious community dedicated to health and human services.
The YWCA held two events to honor the achievements of the Women of Distinction Award recipients. A reception was held for the Women of Distinction Award honorees, the YWCA board members, and the winners of a local YWCA sponsored high school essay contest. This reception provided promising students with the opportunity to connect with prominent and successful women. A formal luncheon was held April 21, 2011 at Norfolk Waterside Marriott. Here, the women were officially presented with their awards and honored by the YWCA and the community.
About the Sisters of Bon Secours: The Catholic sisters have long had a heart for providing medical and social services to underprivileged communities since their inception in 1824. With ministries focused on nursing, medical, human and spiritual services, the Sisters of Bon Secours are equipped to spread wellness and God's love throughout the four corners of the world. For more information on discerning your vocation or becoming a nun, please visit http://BonSecoursVocations.org or email: CBSVocations(at)bshsi(dot)org.
###