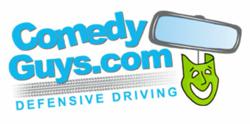 Starting your defensive driving course sooner is the best solution, but Comedy Guys has options for those who waited too long.
Richardson, TX (PRWEB) May 25, 2011
Comedy Guys Defensive Driving, one of the largest schools for Texas defensive driving classes, has created delivery options to get certificates to customers more quickly, whether they take defensive driving online or at one of several class locations.
Most people take a defensive driving class to get a ticket dismissed. Satisfying the court's requirements ultimately comes down to the certificate of completion. Texas state regulations require that these certificates not be handed directly to defensive driving customers; instead, they must be sent by some third party, usually the US Postal Service.
Unfortunately, too many people wait until the deadline is too close, so that they don't have enough time for the certificate to get to them so they can get it to the court.
"A lot of defensive driving students wait until the last minute to start their driving course. We all get busy with other activities, and let the deadline get too close. Starting your defensive driving course sooner is the best solution, but Comedy Guys has options for those who waited too long," says Comedy Guys co-owner Cash Cooper.
Comedy Guys Defensive Driving has been working hard to speed up the process so that certificates get into customers' hands as quickly as possible.
MULTIPLE DELIVERY OPTIONS
Most certificates are sent by regular mail, the cost of which is included in the cost of the class.
But if regular mail isn't fast enough, Comedy Guys customers have the option of receiving their certificates by overnight mail. Deliveries are made to either residential or business addresses, whichever makes it more convenient to the customer.
Sometimes a customer really waits until the last minute so that even overnight delivery isn't fast enough. When this happens, customers in the DFW area can opt for courier delivery, which will deliver their certificate the same day it's printed.
"We recognize the need for these services. However, we are here to help the customer save money, and that's why we want you to know the best way to save money is to start your course as soon as possible. Avoiding overnight mail fees or courier costs can save you money," says Cooper.
DAILY PRINTING OF CERTIFICATES
Many defensive driving schools in Texas are small, one-man operations that offer few regular classes and let the paperwork pile up before a batch of certificates are printed. The state only requires that certificates be mailed within 21 days of course completion, so these small companies cut expenses by printing certificates only when necessary.
Comedy Guys, however, maintains a regular office where certificates are printed every work day. This allows Comedy Guys to send out certificates quickly and to create replacement copies, if they're ever needed, immediately.
AVOIDING THE LAST MINUTE RUSH
In Comedy Guys classes, customers are advised that the easiest and least expensive method of dealing with a last minute rush is to avoid it all together by taking the class earlier.
"The best thing is to take the course early. If you want to receive your certificate by regular mail, it's best to complete the course two weeks in advance of your due date. Since US mail cannot be guaranteed, this allows about 7 to 10 for the paperwork to get you and plenty of time to get a replacement if it does not," advises Cooper.
Another solution is to contact the court that issued the citation and request an extension. Though some courts make it a policy to never grant extra time, other courts are more flexible and will allow defensive driving students some extra time to submit their certificates, especially if they've already completed the course before the deadline.
Quick processing of certificates and various delivery options are just two more ways Comedy Guys Defensive Driving is working to be the most convenient and entertaining way to take a Texas defensive driving course.
ABOUT COMEDY GUYS
Comedy Guys Defensive Driving is one of the largest driving safety course providers in Texas, offering both defensive driving online and live defensive driving classes at more than 30 locations around the state. Their state certified course is designed to meet court requirements for ticket dismissal and be entertaining at the same time. Currently, the company is giving away three Apple iPads in their Get Mobile! Giveaway.
###