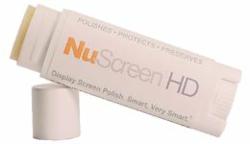 When applied to a clean dry surface, Nu-Screen HD creates a barrier between the skin and the device and produces a high gloss finish when buffed.
Canterbury, Connecticut (PRWEB) May 25, 2011
New product developed as a solid polish with zero moisture content safe for all electronic handheld devices such as smart phones, tablets and all other electronic devices with a display screen. Nu-Screen HD comes within a unique applicator stick that applies the polish evenly across the screen. Just one stick of Nu-Screen HD will produce hundreds of repeat applications of polish to a display screen. The "HD" of Nu-Screen HD stands for Handheld Device. Other Nu-Screen products are being developed such as Nu-Screen SD for stationary devices like touch screen ATMs and restaurant touch screen POS systems.
Why does the screen of a handheld device, smart phone or tablet need to be polished? Every time there is contact or an interaction with an electronic device screen, there is a fingerprint or smudge left behind.
When using a smart phone, tablet or simply selecting a location on a GPS, the display screen of the electronic device attracts elements from the skin. These elements adhere to the screen of the device and create smears and smudges. Body oils, fingerprints as well as deposits left from hand and facial lotions and makeup are all attracted to the screen.
As these elements build up, they become harder and harder to remove with a simple wipe of the screen.
When applied to a clean dry surface, Nu-Screen HD creates a barrier between the skin and the device and produces a high gloss finish when buffed. Also can create a deeper, richer and more intense screen display.
The active ingredient in Nu-Screen HD is Carnauba wax, which is the strongest natural wax from the leaves of the palm, Copernicia Prunifera.
Nu-Screen HD has a Carnauba wax content of 97%, the highest of all Carnauba base polishes developed. Nu-Screen HD is formulated much differently then car wax or other wax polishes as it has no chemical or petroleum based ingredients that can irritate the skin when used. Nu-Screen HD is a all natural formula that is environmentally friendly and is a non-toxic that will safely keep a display screen looking new.
Simple rub on, buff off application of Nu-Screen HD will create a smooth and shiny non-greasy surface.
"How Nu-Screen HD works is really quite simple," explains Nu-Screen HD developer Joe Graley. "By filling the microscopic pours of the screen is what creates the smooth surface. It is these pours found in the screen surface are what collects secreted the debris from your skin and make the surface attract more body oils to create the smears and smudges left on your screen." He further explains, " This is why when you clean your screen with a screen cleaner, the surface feels almost sticky and your finger seems not glide smoothly across the screen. These cleaned microscopic pours create a drag on your finger pulling secreted debris from your skin as you interact with your device. When you polish the screen surface, these pours are filled and your finger will glide effortlessly across the screen surface thus reducing the drag and attraction of secreted debris from your skin."
Independent reviews have found that with just one application of Nu-Screen HD can minimize up to 30% of fingerprints normally found on the screen surface from normal use of the device. Will fingerprints still appear on the screen after the use of the polish? "Yes, of course," explains Graley, "Nu-Screen HD was developed to maintain the appearance of your device keeping it looking new, clean and well maintained. There is a noticeable difference to the look and feel for your screen once polished with our product. Our product was never intended to be an anti-fingerprint solution. The fact that it can minimize up 30% of fingerprints with one application of Nu-Screen is just another benefit of using our product. The more you polish your screen with our product, the better our product will perform on your device. This is why we say, Stay Happy, Polish Often."
Nu-Screen HD is available with a large micro-fiber polishing cloth at http://www.nu-screen.com for $19.95 along with free US shipping. International shipping options are also available.
###