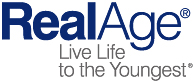 "The medication adherence space presents a substantial opportunity for us and the 27 million people who have taken the RealAge Test," said Gregg Zegras, RealAge President.
San Diego, CA (PRWEB) May 25, 2011
RealAge, the leading online health site centered on the patented RealAge Test– a health assessment that determines a person's mortality risk based on a variety of health-related factors – today announced its partnership with HealthPrize Technologies, an Internet and mobile app–based adherence platform that leverages behavioral economics and gaming dynamics. Set to launch in June, the program will measure the effectiveness of HealthPrize's customizable medication adherence solution on select RealAge members currently taking asthma medication.
The RealAge and HealthPrize study will provide participants – pre-identified as RealAge Test takers currently on medication – with access to HealthPrize's adherence platform, where they can earn points for taking their medications, engage in health education, and receive chances to win a wide selection of prizes.
Non-adherence to medications is one of the most significant and costly problems in healthcare, accounting for an estimated $290 billion in otherwise avoidable medical spending per year due to preventable complications of chronic disease.
"The medication adherence space presents a substantial opportunity for us and the 27 million people who have taken the RealAge Test," said Gregg Zegras, RealAge President. "We are uniquely positioned to motivate consumers to follow a prescribed health plan because people come to us when they are at the point of readiness to change their lifestyle behaviors."
A recent study funded by the National Institutes of Health, and subsequently published in the American Journal of Public Health, showed that RealAge successfully motivated employees to initiate and adhere to a health-management plan that resulted in significant waist-size reductions.
"We are proven to help workers manage and improve their health and wellness through the RealAge Test and Web site, and are now taking it one step further to engage members around a more consistent medication adherence regimen which has the additional benefit of helping improve their health and well-being, while at the same time addressing the significant costs attributed to non-adherence," Zegras said.
The preliminary results of the program suggest that consumers favor earning points over receiving simple rebates. Copay reductions and rebates are ubiquitous in the pharmaceutical industry, but participation in a points system of equal or even lesser monetary value may actually be more motivating as an adherence tactic.
RealAge plans to roll out similar programs to its entire member base, starting with people suffering from asthma and extending to people managing other health conditions, such as diabetes and high blood pressure. The initiatives will help consumers avoid emergency medical situations that often arise from erratic adherence to necessary medical regimens, while simultaneously freeing employers from the steep healthcare costs incurred as a result of those situations.
"Medication adherence is an under-recognized problem in the healthcare industry today, but it affects a vast number of consumers, physicians, and pharmaceutical companies across the country," said Tom Kottler, CEO and cofounder of HealthPrize. "This partnership allows consumers to experience a unique approach to brand engagement and medication adherence while providing vital information to pharmaceutical manufacturers that will allow them to address medication adherence in a more thoughtful, resourceful way."
About RealAge
RealAge.com is a leading health and wellness site centered on the groundbreaking RealAge Test, a highly scientific but simple-to-take test that calculates how old your body thinks you are. The patented test, which launched in 1999 and has been taken by more than 27 million people, is backed by powerful new technology that allows it to be constantly updated with the latest medical studies. When you take the test, you will receive a personalized Grow Younger Plan designed to turn back your body clock. The site also offers health tips, dozens of other tests, and practical, inspiring information to help you become physically younger. RealAge aggressively guards users' privacy and does not share its members' identities with third-party advertisers. RealAge, Inc., is a wholly owned subsidiary of Hearst Magazines, a division of the Hearst Corporation.
About HealthPrize Technologies
HealthPrize Technologies, founded in September 2009, provides an innovative approach to addressing the problem of medication non-adherence with a program that is fun, engaging, and educational, utilizing cutting edge gaming dynamics and behavioral economics concepts. For more information, visit http://www.healthprize.com or call 203-604-6820.
###