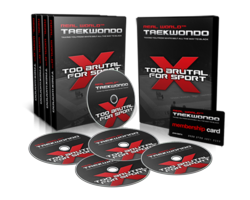 Kick-ass DVDs! Step by step from tying belt to black belt pattern. Sport, self defence or just keep fit. Well worth the money (board breaking – section – awesome!)" - Karl Gregory, Millbrook, UK
Southampton, UK (PRWEB) May 26, 2011
Taekwondo is the worlds most popular martial art with an estimated 70 million practitioners worldwide. A golden opportunity has arisen for all taekwondo lovers to learn from three of the most successful taekwondo coaches on the planet. You can now learn the complete taekwondo system, from white belt to black belt and including long lost military TKD techniques, from the comfort of your own home. Sit back and learn the unique teaching methods and strategies that helped to create three Commonwealth medalists.
The year 2011 started perfectly for one Taekwondo school in the UK. BTS Southampton had three of their students represent Great Britain in the Commonwealth Games. Alexandra Thomas and Jenny Marjason both got Gold Medals whilst Jemma Johnson gained a silver medal. It was time for the world to stand up and take note of the taekwondo coaches responsible for consistently churning out national, international and now Commonwealth champions.
BTS Southampton are a small taekwondo school focused on getting the best out of their students. The results speak for themselves. Their students are consistently competing (and winning) at both national and international events. The people responsible for masterminding the success of this small team are former bodyguard Master Joe Brown, Gareth Brown and Jemma Johnson.
"We pride ourselves on helping our students not only develop taekwondo skills to help them win at sport but also teaching them the necessary skills they need to be able to defend themselves on the street" says 5th Dan Master Joe, who has a decorated history in the armed forces. "Many people think taekwondo is 'just a sport' because they have only seen the sport on TV or on You Tube. The truth is before the sport even existed taekwondo was a brutal form of hand-to-hand combat taught to the military and containing strikes too brutal to be allowed in the ring. We like to teach both the military martial art and the sport of taekwondo". With three Commonwealth medalists in their team it is clearly working.
BTS Southampton's success did not go unnoticed. Martial arts publishers approached Master Joe and his son Gareth Brown, who is currently a development coach for the Great Britain Junior National Team and former national champion, and persuaded them to record all of their specialist techniques and winning taekwondo strategies onto DVD.
The Real World Taekwondo DVD set is made up of five DVD's and is being billed as an encyclopedia of taekwondo techniques. All of the kicks, strikes, patterns (often called forms) and even long lost military hand-to-hand combat techniques are covered in the DVD set and taught by Master Joe, Gareth and Commonwealth Games Silver Medalist Jemma Johnson.
The DVD's are a great training aid for those already studying taekwondo or those looking to learn how to defend themselves and their loved ones.They are however in short supply and only a limited number of DVD's have been printed. To learn more visit http://www.realworldtaekwondo.com/
###