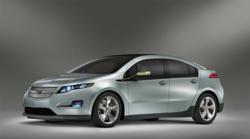 Kansas (PRWEB) May 26, 2011
The staff at Briggs Auto Group - the premiere GMC dealer in the greater Kansas area - are excited about the production boost for the Chevy Volt and the fact that there will be more US cars exported around the world, helping the US economy in many ways.
The GM Detroit-Hamtramck Assembly plant, home of the Chevrolet Volt, will close for four weeks beginning in June for planned upgrades to prepare for a significant increase in the rate of Volt production, along with assembly of the 2013 Chevrolet Malibu midsize sedan.
"The Volt will be available to customers nationwide by the end of 2011," said Cristi Landy, director of Chevrolet Volt Marketing. "By taking the time to reconfigure the plant, we will be better able to meet the tremendous consumer demand."
During the four-week shutdown the plant will complete some pre-scheduled upgrades, including the installation of new tools, equipment and overhead conveyor systems throughout the facility. This will prepare the plant for 2012 Volt and Ampera production and continue work on projects in preparation to launch the 2013 Malibu next year.
The Volt is an electric vehicle that offers a total driving range of 379 miles, based on EPA estimates. For the first 35 miles, the Volt can drive gas- and tailpipe-free using a full charge of electricity stored in its 16-kWh lithium-ion battery. When the Volt's battery runs low, a gas-powered engine/generator seamlessly operates to extend the driving range another 344 miles on a full change.
The 2011 Volt was first launched in California, New York, Connecticut, Maryland, Michigan, New Jersey, New York, Texas, Virginia and Washington, D.C. It will be available nationwide and in Europe, China and Canada by the end of this year.
This is good news for citizens of Kansas. With a great local dealer like Briggs Auto Group, it is easy to see the new Chevy models and take them for a test drive. When it comes to selection and service of Chevrolet vehicles, Briggs Auto Group is hard to beat.
###