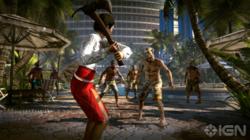 An open world video game is the perfect medium for showing the full effects of a zombie apocalypse.
Los Angeles, California (PRWEB) May 26, 2011
Dead Island's emotional, melancholy, and gory announcement trailer has garnered over 4 million hits on YouTube. Some bloggers and game journalists who have seen previews of the gameplay have asserted that the game itself doesn't reflect the emotions exhibited in the trailer. But, according to Haris Orkin, journalists and the public have only been exposed to a tiny portion of the game.
"An open world video game is the perfect medium for showing the full effects of a zombie apocalypse. Everyone reacts to trauma, danger, and tragedy in a different way and we wanted to show the full range of human emotion. Besides all the quest characters you meet along the way, each playable character has his or her own demons to overcome. All of this will be revealed as the narrative unfolds. There's a mystery as to the source of the outbreak and that's all part of what will pull players through the story. Now, of course, it's still a video game, so it needs to be fun to play. It can't be all sturm und drang. You need thrills, surprises and big cinematic moments as well as a sense of mastery and accomplishment as you progress through the adventure. I think Techland has done an amazing job of balancing the narrative and the gameplay to create an exciting, emotional, and visceral experience that people won't soon forget."
Dead Island was co-written and voice directed by Radio Ranch Creative Director Haris Orkin and recorded at the Ranch's own Double R Studios. Developed by Techland, published by Deep Silver, and distributed in North and South America by Square Enix, Dead Island is due out later this year.
The Double R Studios are located at The Famous Radio Ranch in Sherman Oaks, California. It's a full service recording facility specializing in audio for video games, radio, and TV.
Haris Orkin co-wrote all three Call of Juarez games for Techland and in 2009 was nominated for a Writer's Guild Award for Command and Conquer: Red Alert 3.
# # #