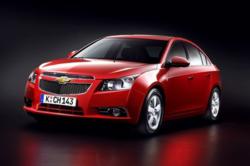 (PRWEB) May 31, 2011
With gas prices rising all the time with no signs of them falling back to sub-$3 levels, many people are looking for newer cars or trucks with newer technology that gets better gas mileage, Briggs Auto Group in Manhattan, Kansas is offering great deals on fuel efficient cars. When it comes to these types of vehicles, the professionals at Briggs Auto Group - the premiere GMC dealer in the greater Kansas area - know that the Chevy Cruze is on the top of many lists.
The (ERFS) Electronic Returnless Fuel System on the 2011 Chevy Cruze increases fuel economy by 2% - compared to vehicles with a standard fuel system, said Terry Wilton, General Motors' senior manager for fuel system components. The Cruze Eco model with a manual transmission can get around 42 miles per gallon on the highway, which is the best among all compacts in this class.
"We've combined a lot of technologies on the Cruze to offer customers hybrid-like fuel economy without the cost of the hybrid system," Wilton said.
The system reduces voltage to a point where the pump doesn't deliver excess fuel. The lower fuel pump speed results in less power consumption, which reduces the electrical load on the alternator. That reduces the strain on the engine, resulting in increased fuel economy.
"To a customer, the Electronic Returnless Fuel System technology is seamless," said Wilton. "The driver does not notice the changes to fuel pump speed because engine fueling requirements vary during different vehicle driving conditions."
Briggs Auto offers many fuel saving vehicles and they are very excited about the opportunity that GM provides with their fuel-saving technology.
Chevrolet also offers many other "gas-friendly" or "gas-free" solutions. These include the Cruze Eco and Volt. The Cruze Eco offers 42 mpg on the highway while the Chevrolet Volt offers 35 miles of electric, gasoline-free driving and an additional 344 miles of extended range. Additionally, most new Chevrolet models offer OnStar safety, security and convenience technologies including OnStar Hands-Free Calling, Automatic Crash Response and Stolen Vehicle Slowdown.
Consumers interested in gas saving vehicle options are encourage to stop by Briggs Auto Group - the premiere GMC dealer in Kansas. Their sales team is professional, friendly, and available to answer questions about the new Chevy Cruze or any of the other great new models from Chevrolet.
###