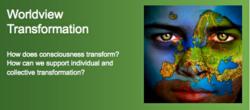 Worldview literacy is showing early student success in improving the ability to navigate an increasingly interconnected and globally convergent world, according to research by the Institute of Noetic Sciences
Petaluma, Calif. (PRWEB) May 24, 2011
Worldview literacy, an emerging new learning approach that helps students shape perceptions through multiple personal and cultural lenses, is showing early success in improving the ability to navigate an increasingly interconnected and globally convergent world, according to research by the Institute of Noetic Sciences (IONS). IONS announced today The Foundations of Worldview Literacy Instructor Training Program, August 3 to 7, 2011, at EarthRise Retreat Center in Petaluma, CA.
High school teachers and other educators interested in understanding and applying the foundations of worldview literacy in their work will spend five days participating in the program. They will engage in experiential exercises, intrapersonal and meta-cognitive explorations, group dialogues and approaches to observing the learning process that will highlight the social nature of learning. The program also is open to anyone who works with people with diverse worldviews.
Registration fees for the program are $575 through July 6, 2011, and $645 thereafter. Registration fees include program and meals. Onsite lodging is $72 per person per night for a shared room or $97 per night for a single room.
Participants at the workshop will learn to understand the core questions, key tenets, research methodology, integral philosophy and instructional design underlying IONS' Worldview Literacy Project™. They also will gain a greater understanding of their own worldview and deeper appreciation for others who hold different worldviews. Participants will gain facility with a variety of perceptual lenses, including intuition, direct experience and critical reflection, and they will be able to present and facilitate the lessons contained in the Foundations of Worldview Literacy workshop.
Worldview Transformation Research
According to research by IONS, people who engage in programs for the express intention of transforming worldviews in positive ways can radically broaden their perspective and redefine their relationship to the world. Such a shift can lead to significant changes in motivations, priorities, and quality of life. Based on this research, IONS developed The Worldview Literacy Project to help students cultivate 21st century life skills such as communication, cultural awareness, embodied learning, collaboration and an inherent desire to learn about the world and contribute to its betterment. IONS recently published a paper on The Worldview Literacy Project pilot program in New Horizons for Learning, the peer-reviewed journal published by Johns Hopkins University School of Education.
The Worldview Literacy curriculum directly develops key capacities for college and career readiness as outlined by the Common Core State Standards in English Language Arts and Literacy (Common Core Standards, 2010). As a result, this curriculum is immediately useful to teachers and districts and can easily integrate into existing curricula.
The program is based on original research by Dr. Marilyn Schlitz, IONS' president and CEO, Cassandra Vieten, director of research at IONS, and Tina Amorok, research associate at IONS. Their 10-year study was published as a book titled "Living Deeply: The Art and Science of Transformation in Everyday Life." A study of IONS' worldview transformation research was published in the Journal of Consciousness Studies (July/August 2010), and a summary in IONS' 2007 Shift Report also covers the consciousness research providing the basis for the Worldview Literacy Project.
About IONS
The Institute of Noetic Sciences is an international non-profit organization advancing consciousness research to benefit education, health care, personal growth, and social good. Its three program areas offer potential for positive change in the world: consciousness and healing, worldview transformation, and extended human capacities. IONS biennial conference will take place in San Francisco July 20-24, 2011. Funded by members, donors, and grants, IONS also operates EarthRise at IONS, a 120-bed conference center on a 194-acre campus in Petaluma, CA.
From "The Worldview Literacy Project: Exploring New Capacities for the 21st Century Student" by
Dr. Marilyn Schlitz, Ph.D., Dr. Cassandra Vieten, Ph.D., Elizabeth Miller, Ken Homer, Dr. Katia Peterson, Ph.D. & Kathleen Erickson-Freeman, President, Faculty, and Staff at the Institute of Noetic Sciences, Petaluma, California:
We use the term literacy to mean a core competency or skill set. Worldview Literacy (WVL) is the capacity to comprehend and communicate an understanding that information about the world around us is perceived and delivered through the filters of our personal and cultural worldviews. It is the understanding that beliefs are embedded within individual and collective frames of reference and that other people hold different worldviews. It is knowing that our worldviews or models of reality are largely unconscious, and that jointly engaging in practices that raise our awareness of the beliefs and assumptions we hold can allow us to better navigate encounters with differing perspectives. We propose that worldview literacy is a fundamental skill set that is needed by the 21st century student.
###