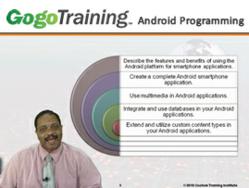 Our training makes programming and software development a viable career option for literally anyone interested ...
Scottsdale, Arizona (PRWEB) May 25, 2011
GogoTraining has released eleven new self-paced, online training programs designed to allow students with no previous programming knowledge to train for careers in major programming languages.
The training programs are a breakthrough for people with nothing more than general computer skills and familiarity to pursue a career in software. Similar training programs are either much high in cost or require initial experience and knowledge that exclude most people.
"Our new training programs are geared to open up the market and make programming and software development a viable career option for literally anyone who is interested and has an Internet-capable computer," said Marianne Cherney, CEO of GogoTraining. The programs are taught by leading experts with years of experience. The courses are easy to use and students have access to them for one year following purchase, including the ability to ask the instructor questions.
The programs are also offered at a fraction of the cost compared to other IT training providers with less- than-comparable training programs. Competing programs are almost never designed for non-programmers and cost upwards of $5,000 to $10,000 or more per student. Almost all of the GogoTraining Developer Training Programs are very affordably priced between $500 and $800 per person. Volume discounts are available upon request.
"Recruiting in IT has risen sharply and demand for selections in our 140+ course catalog have skyrocketed, however those without IT skills interested in programming have always has been an underserved market," said Tim Salam, Director of Marketing for GogoTraining. "People with business skill sets are looking for a way to enter the lucrative world of software development and this is it. We have worked hard to meet that market in an affordable and accessible way." The programs are also suitable for those seeking to learn additional software languages as the core courses are available to be purchases separately.
Prospective students may learn more about The Android Development Training Program at the following web address: http://gogotraining.com/training/programs/become-a-programmer.php
About GogoTraining
GogoTraining provides actual classroom courses taught by industry experts in an online, self-paced, affordable format. The training is for software, hardware and management professionals. For more information, please visit http://www.gogotraining.com or contact Tim Salam at tim(at)gogotraining(dot)com or by calling 1-877-546-4446.
###