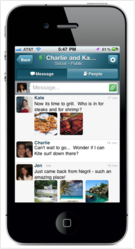 LoKast is now delivering an experience that's a true compliment to the physical world of 'hand-shakes and my-name-is-blanks', 'time-for-desert's and check-out-our-last-night-photos', and 'here-are-our-specials'.
New York, NY (PRWEB) May 25, 2011
NearVerse is launching LoKast 3.0 today, a much anticipated mobile app for iPhones, iPads, and iPods, allowing users to create instant digital social networks in physical places. This is a key new milestone for proximity Internet, where the progress to date has been primarily in the form of upload-and-download-based, proximity media sharing apps. Now, LoKast 3.0 raises the bar to a completely new level, giving users a broad range of mobile social networking capabilities critical for interactions that take place in physical places:

Real-time messaging with others in the same physical places, in addition to real-time sharing of photos, videos, contacts, music links, and web links
Ability to create spaces, which are instantly visible by others in the same physical place, are as easy to create as SMSs, and that serve as social networks for the users there
Real-time discovery of people and spaces in physical places
Support for 1-on-1 personal conversations, exclusive invite-only and private spaces accessible only by select people in a place, public spaces accessible openly in a place, controls to invite others from within a physical place, and means to add users as contacts, manage relationships, and block them
Chatter space which serves as a neighborhood proximity chat for people in vicinity of one another
Disposable and elastic social networking, where users can connect with others next to them for a brief bit and then stop OR continue afterwards even if far away
Ability for space "hosts" to use the spaces as their "digital venues", to connect with guests as they come in, to lead discussions, and to serve up content during their time there
100% real-time application – instant messaging, sharing of media, and discovery
According to Boris Bogatin, NearVerse's CEO, proximity Internet is in its very normative stages of emerging as a key medium in mobile. Some of the major opportunities stem in using a digital platform to expand the richness and scope of social interactions while in a physical place, and then helping users easily stay connected after they leave. Others lie in using the proximity Internet to enhance "hosts'" ability to engage with their users, guests, and customers in real-time, whether to broadcast announcements, lead discussions, or serve up promotions. To date, the key challenges have included technology systems that have been too immature to match the real-time communication needs within physical settings, services that have not provided adequate privacy and security controls, and business approaches that incorrectly used the same, Internet-style marketing techniques to promote proximity Internet services – services directed to a very different, physical world market, with highly fragmented and highly synchronized interactions.
Now, Boris Bogatin believes that LoKast 3.0 is the first mobile app service to holistically address the proximity Internet needs, and to set the stage for rapid emergence of this critical mobile market. "We focused on optimizing LoKast for a few capabilities that are absolutely critical to proximity Internet – a) discovery, space creation, messaging, and media sharing have to be as close as possible to 100% real-time; b) users need access to accurate and contextual, address-less discovery of others and spaces where they are; c) users need to be able to instantly organize in 1-to-1 and group social interactions that match the privacy requirements within their physical settings; and d) users need to be able to stay connected after they leave and continue right where they left off during those physical interactions," states Boris Bogatin. "This approach now sets the stage for us to effective proliferate proximity Internet – from opportunities to effectively monetize this market to means for gaining adoption in a way that's suitable for the physical world scenarios."
LoKast's parent company, NearVerse, has been making headlines over the past year through key technology advancements and proximity thought leadership. They've emphasized the use of a system that integrates Internet and device-to-device communications into one, and recently started cooperating with Qualcomm's Innovation Center around the use of their AllJoyn technology. They were also very early in evangelizing the proximity Internet market, emerging at last year's South by Southwest conference as a popular service for proximity media sharing and disposable social networking, well ahead of some of the recent up-starts in the market. Historically, LoKast has been downloaded by hundreds of thousands of users and has also been adopted by various music, event, and media groups as their "digital stage" experience platform – to release exclusive photo, video, and music content right to their audiences at live shows.
Boris Bogatin sums up his team's accomplishments with LoKast 3.0 as transformational and believes the new app is a complete revamp of the product: "With this type of instant and contextual experience, LoKast users will not require 'invites,' 'follows,' or 'addresses' to connect with one another in physical places, and instead will immediately find and connect with each other, strictly by being in the same physical place. LoKast is now delivering an experience that's a true compliment to the physical world of 'hand-shakes and my-name-is-blanks,' 'time-for-desert's and check-out-our-last-night-photos,' and 'here-are-our-specials.'"
About NearVerse and LoKast
NearVerse is a proximity Internet company and the maker of LoKast. LoKast allows users to instantly discover each other, message and share media directly and in groups, and jointly better experience their time when in physical places – to match, LoKast adopted the slogan of "Physical Life. Digitally Connected." LoKast is powered by NearVerse, which packages the best app capabilities, technology system, and network for proximity Internet, delivering the best digital platform for the physical world. NearVerse is based in New York City, New York. For additional information, download LoKast on iPhone and learn more about LoKast at http://www.lokast.com.
LoKast PR Contact:
press(at)lokast(dot)com
Twitter: @lokastapp
LoKast and NearVerse are registered trademarks of NearVerse, Inc.
###