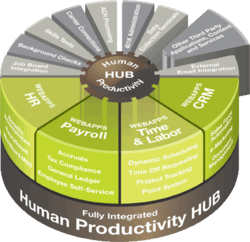 Businesses will be given the power of choice through the use of this consumer-like application marketplace.
Branchburg, NJ (PRWEB) May 26, 2011
SaaShr.com (http://www.SaaShr.com), a leading provider of Software as a Service (SaaS) based Workforce Management Solutions with a major focus in HR, Payroll, and Time and Labor Management, has announced today the launch of its Ancillary Product and Service Marketplace for service providers licensing its technology and those providers' clients. Tightly integrated products and services from a broad set of accredited third party providers will be available directly through SaaShr.com's workforce management platform. The launch of the Ancillary Product and Service Marketplace marks the continued commitment of SaaShr.com to provide a richer, more user-centric experience under a single user interface within its suite of solutions.
"The mainstream market is quickly embracing this type of technology that enables consumer-driven buying behavior, and the level of integration that we're able to achieve with our ecosystem of partners within the payroll and HR community is exciting," said Bill Loss, CEO at SaaShr.com. "There is a huge opportunity for us to lead the SMB market's adoption of this technology through the channel with our licensee partner community, especially since this concept isn't being developed or implemented by other software companies on this large of a scale."
"Business technology and software are moving towards a more consumer-driven model where people are able to connect to relevant services and content in a much more streamlined way," continued Loss. "This change will have the largest impact on the workforce management space being that the consumers utilizing this technology in their personal lives will expect the same in their professional lives. Businesses will be given the power of choice through the use of this consumer-like application marketplace."
In the later part of 2010, SaaShr.com embarked on the process of identifying and evaluating the best-of-breed providers' complementary products and services in a wide range of categories including background screening, 401k, benefits enrollment, workers' compensation, and HR content. "The providers of these products and services are the types of companies that are at the forefront of their industry in terms of development practices, data security, quality of services, and overall support," stated Rachel Lyubovitzky, Head of Corporate Development at SaaShr.com. The services available under each category will be integrated and accessible through SaaShr.com's workforce management platform. "The number of categories within the Ancillary Product and Service Marketplace will continue to expand as will the alternative providers within each category, as development progresses and the relationships already in place mature."
Last week, the organization made a Social Security Number Verification Service available to its licensees through an integration with the Social Security Administration's (SSA) Business Services Online (BSO). The service allows authorized users to verify new employees' names and Social Security Numbers with the SSA. Tight integration enables access to this service seamlessly from within the workforce management platform and ensures that the appropriate audit trail is in place during the check. Integrations with other service providers are continuously being added with each SaaShr.com software release.
"The Ancillary Product and Service Marketplace will result in a richer experience for licensees and their clients," stated Lyubovitzky. According to Fortune.com, in less than a two-year period from 2008 to 2010, Apple generated $189 million in revenue from the App Store. Lyubovitzky concluded, "This Ancillary Product and Service Marketplace also allows those licensees to generate additional revenue streams and strengthen client relationships through the provision of a wider range of services. In turn, licensees' clients can review and choose the best applications and services for improving operational efficiencies in their companies."
About SaaShr.com –
SaaShr.com was established in 2002, and has evolved in response to the ever-changing needs of both providers and customers of Payroll and Human Resources services. Under a private label model, providers leverage one interface and one user experience across all of SaaShr.com's workforce management applications including Human Resources, Payroll and Time and Labor Management. Applications can be utilized as a complete suite, individually, or in conjunction with other core third party applications, content and services - - http://www.SaaShr.com.
###