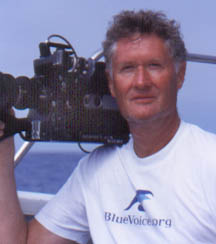 Los Angeles, California (PRWEB) May 29, 2011
Hardy Jones has written a book that takes us through the phenomenal, almost unimaginable, world of dolphins in the wild and his thirty-year efforts to protect dolphins from the brutal hand of dolphin hunters and ocean contamination. – Ted Danson, actor, co-founder BlueVoice.org
The Voice of the Dolphins reveals intimate details of dolphins in the wild and the emerging threats to their very existence and ours. In it, Hardy Jones, executive director of BlueVoice.org and a pioneer in filming dolphins, killer whales and sperm whales underwater in the wild, presents persuasive evidence that a lethal threat to dolphins—and, it turns out, to humans—is the rising level of contaminants in the ocean food chain. When Jones was diagnosed with myeloma, his blood tests revealed highly elevated levels of chemicals such as DDT, flame retardants and hexachlorobenzine in his blood and tissues—the same chemicals found in ever-greater concentrations throughout dolphin populations around the world. The diagnosis spurred him to seek the sources of the pollutants in his own body and to document their impact on marine life and human beings. Jones has found dolphins with multiple myeloma, and his research reveals extreme levels of contamination in those dolphins tested.
Jones says, "It is wonderful (work), but what I'm discovering in the dolphins I've been filming is heartbreaking. Many of them are loaded with pollutants, and whole populations are in jeopardy of vanishing from the seas. I've been filming orca in the San Juan's since the early eighties, and they're so loaded with PCBs that their reproductive capabilities are seriously compromised and their corpses have to be treated as toxic waste."
When Jones met Dr. Brian Durie, Chairman of the International Myeloma Foundation (IMF) Board of Directors, one of the leading experts in blood cancers and a specialist in multiple myeloma, they noted some interesting parallels.
For example, the geographical areas where Jones was finding sick and dying dolphins with toxic levels of pollutants, were ones Dr Durie had found to be "places (that) all have corresponding hot spots of multiple myeloma (in people)."
As Mr. Jones puts it, "Here was one of the top myeloma experts in the world connecting the chemicals decimating orcas and dolphins with multiple myeloma in human beings."
About the International Myeloma Foundation
Founded in 1990, the IMF is the oldest and largest myeloma organization in the world, reaching more than 195,000 members in 113 countries. Focusing on four key areas—research, education, support and advocacy, the IMF's mission is to improve the quality of life of myeloma patients while working toward prevention and a cure. The research division of the IMF, the International Myeloma Working Group (IMWG), comprised of 145 leading collaborative researchers, continues to lead the way in myeloma treatment and research. The IMF can be reached at (800) 453-CURE. The global website is myeloma.org.
# # #