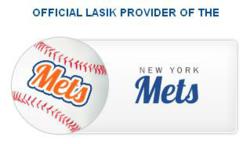 Smithtown, NY (PRWEB) May 26, 2011
North Shore Eye Care, one of the nation's most reputable and esteemed providers of eye care services, has been named the Official LASIK Provider for the New York Mets.
Established by Dr. Sidney A. Martin 50 years ago, North Shore Eye Care offers a comprehensive range of high-quality eye care services, including Custom Bladeless LASIK, plastic surgery for the eyes, advanced cataract surgery, and treatment for glaucoma and retinal diseases.
The practice features a team of renowned eye care specialists, including Dr. Martin, his son Jeffrey, Lawrence Zweibel, John Mauro, and Neil Nichols. The board-certified eye surgeons of North Shore Eye Care have been featured in Newsday, the New York Times, and New York Magazine as Top Doctors in the New York Metro Area by Castle Connolly Medical Ltd.
The history of the New York Mets parallels that of North Shore Eye Care. The Mets became a Major League Baseball team in 1962, and are celebrating their 50th season in the National League in 2011. Like North Shore Eye Care, the Mets rose to prominence quickly, winning their first World Series Championship in 1969, and have been a New York institution ever since.
"We are thrilled to be affiliated with a team with as proud and distinguished a history as the Mets," says Dr. Jeffrey Martin. "The opportunity to work with some of baseball's finest players excites and inspires us. For professional athletes who depend on their vision for a living to endorse our practice like this, it truly reflects the quality of care we have provided and will continue to provide."
"This is a source of great pride for us, of course," adds Dr. Lawrence Zweibel. "It gives us even further incentive to maintain our position as the preeminent eye care center in Long Island."
North Shore Eye Care was also recently named the Official Eye Care Provider of the New York Islanders.
Mets Hall-of-Famer Daryl Strawberry, who led the 1986 team to a World Series Championship over the Boston Red Sox, appears in a video endorsing North Shore Eye Care as the Official LASIK provider of the Mets.
"For a legend like Daryl Strawberry to appear in such a video is a real honor," says Dr. Zweibel. "The man was an eight-time All Star."
North Shore Eye Care serves communities throughout Long Island, including both Suffolk and Nassau Counties.
The practice conducts free monthly seminars on Custom Bladeless LASIK and advanced cataract surgery for people who are interested in learning more about how they can reduce their dependence on glasses and contact lenses.
Call (631) 265-8780 to schedule an appointment with one of the experienced eye care specialists at North Shore Eye Care.
For further information, visit http://www.nseye.com or email surgery(at)nseye(dot)com
Join your fellow Mets fans on Facebook at http://www.facebook.com/Mets.
# # #