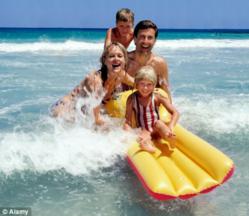 Safety doesn't happen by accident.
(PRWEB) May 26, 2011
Other than viewing travel insurance as a cost, you should in turn consider the peace of mind that you will experience as you have fun in a new country. Why not making cool pictures with your family, rather than stressing yourself if something happens.The harsh reality is that every traveler should get travel insurance by all means.
1) Medical travel insurance
Statistics from the government of Australia have displayed results showing that they handle up to nine hundred deaths of overseas travelers and 1,200 cases of hospitalization. This can actually happen to you while traveling and the whole cost burden may prove to be your worst night mare. In South East part of Asia, the cost of hospitalization can cost as much as one thousand dollars each day. These same findings have pointed out that there are approximately fifty evacuations done on medical grounds each year. Imagine having to pay up to $ 90,000 to be evacuated to your home country. This definitely makes travel insurance worth it.
2) Insurance against Loss
Many things tend to get lost during travel. Luggage can get lost at the airport and even wallets are often stolen. Travel insurance is capable of covering this cost and brings back your smile after being totally inconvenienced.
3) Insurance against Flight Cancellation
Cancellations of flights is a common phenomenon and can be totally stressful. One can be so inconvenienced and end up being in the airport for very long hours. In case you have got flights or transfers the effect can be terrible and costly. At times you may be force to organize for another accommodation option. Travel insurance will come in handy and handle this inconvenience for you.
4) Insurance against Acts of Nature
In case you are stranded due to some acts of nature such as hurricanes and the like then travel insurance will cover the costs for you.
The travel insurance is a "must have" type of insurance and by all standards it is a worthwhile investment that will see you enjoy maximum comfort and sleep. Peace of mind is a very essential ingredient in ensuring you make the best out of your journey.
Thanks to the internet, nowadays we can have a travel insurance made anytime before our trip, even if you are a well planner or a lazy traveler, it will take about 10 minutes to complete the form and have your or your family travel insurance in your pocket.
As there are many insuring companies we have identified 2 of the best companies out there, taking in consideration parameters as: cost, efficiency and cost cover.
They are as it follows:
1. Travel Guard having the internal guidelines:
" Our comprehensive travel insurance programs, starting at $30, include per-trip & annual plans, coverage for trip cancellation, trip interruption, trip delay, medical expenses, baggage loss & more! Travel Guard provides 24/7-customer service with a personal touch through its World Service Center .By owning & operating our own network of assistance companies, we ensure the highest quality in Travel Medical Assistance, LiveTravel® Emergency Service, Worldwide Travel Assistance, & Concierge & Personal Assistance "
2. Access America Travel Insurance having the internal guidelines:
"Access America is the travel insurance brand of Mondial Assistance. Mondial Assistance is a global provider of travel insurance and assistance with offices in 28 countries and is owned by Allianz, the world's largest insurance company (Fortune). Almost 10,000 people are employed by Mondial Assistance globally, over 800 of which are in our Richmond, Virginia office. Whenever and wherever you book your travel - look for Access America travel insurance. We work with some of the best brands in the business like AAA, Orbitz, American Airlines, Delta Airlines, Disney Cruise Line, Ticketmaster, and Best Western. You can even check your wallet for our products. 150 million credit card holders enjoy our insurance benefits and assistance services. "
Under the motto that " anything can happen!" , we suggest to plan everything up front , regarding any trip. Now we know how easy and efficient is to have a safe and sound holiday.
# # #