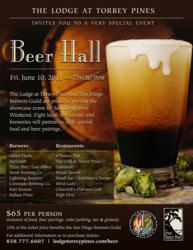 San Diego, California (PRWEB) May 29, 2011
San Diego has been identified as the epicenter for beer culture and tourism. The Lodge at Torrey Pines and the San Diego Brewers Guild are proud to present the showcase event for San Diego Beer Weekend. Eight local restaurants and breweries will partner to craft special food and beer pairings. Beer Hall will take place on Friday, June 10th, at The Lodge at Torrey Pines®.
Celebrating the city's growing craft beer community, the San Diego Brewers Guild, sponsors a 10-day Beer Week county wide to promote awareness and increase visibility of locally brewed beer in the community. Beer Weekend, June 10-12, highlights the much anticipated fall event with three days of Craft Beer events in San Diego.
The luxury five-diamond resort, and its casual restaurant, The Grill at Torrey Pines have produced a delectable series of Beer Events each month highlighting the sophistication of Craft Beer. This reputation quickly earned The Grill membership in the San Diego Brewers Guild.
Beer Hall will be the showcase event for the San Diego Beer Weekend. Chef Kyle Bergman and Chef Dan Boling, of The Grill at Torrey Pines amongst other talented chefs and brewers have paired up to create a Beer Hall experience at The Lodge at Torrey Pines.
Participating Brewers
Green Flash
Ale Smith
Pizza Port/ Lost Abbey
Stone Brewing Co.
Lightning Brewery
Coronado Brewing Co.
Karl Strauss
Ballast Point
Participating Restaurants and Chefs
O'Briens Pub
The Grill at Torrey Pines
Toronado
Ritual Tavern
Small Bar/ Hamilton's Traven
Blind Lady
Churchill's Pub and Grill
High Dive
The Beer Hall experience will be a combination of Food and Beer Pairings in a social atmosphere. Beer enthusiasts will appreciate the opportunity to sample craft beer and food at its highest level and interact with chefs and brewers alike. Beer Hall tickets are $65 and Weekend Room Packages available online at http://www.lodgetorreypines.com/beer.
A portion of the Beer Hall proceeds will be donated to the San Diego Brewers Guild, an organization dedicated to promoting awareness and increasing the visibility of fresh, locally brewed beer through education and participation in community events. For more information please visit http://www.sandiegobrewersguild.org
The Lodge at Torrey Pines, embodies the very best of Pacific Coastal living. Designed in the Arts & Crafts tradition of architects Charles and Henry Greene, The Lodge is a loving homage of California Craftsman architecture, emphasizing authentic materials and craftsmanship, respect for the natural landscape, and integration of indoor and outdoor living.
# # #