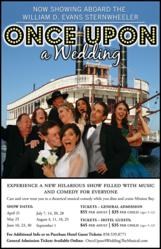 San Diego, CA (PRWEB) May 26, 2011
The Bahia Resort Hotel, located on Mission Bay, and Laughing Tree Productions have announced the arrival of Once Upon a Wedding an interactive dinner theater cruise on the William D. Evans sternwheeler every Thursday evening beginning June 16th through September 1st.
An original musical comedy Once Upon a Wedding will set the scene for Daisy and Davis's not so perfect day. A hilarious showcase of the Bride, Daisy, and her groom, Davis, are blissfully in love and surrounded by their dear friends and family. Not a thing can go wrong. Until the Wedding Planner goes missing and half the wedding party is left back at the Dock. A night filled with audience interaction performed aboard the William D. Evans Sternwheeler - filled with love, agony, betrayal, improvisation and romantic ballads this is sure to be an evening to remember while sailing on Mission Bay.
Once Upon a Wedding, the new hit interactive musical comedy, boasts a talented nine-member cast filled with sign a long hits. Complete with a three-course dinner, dancing and live entertainment, aboard the William D. Evans Sternwheeler. Each guest will delight on a delectable menu--Spinach Salad with Orange Segments and Candied Pecans accompanied with Passion Fruit Vinaigrette and Ranch Dressing Grilled Breast of Chicken with a Cabernet Wine Sauce, Served with Honey Glazed Carrots, and Garlic Whipped Potatoes and of course Wedding Cake. Champagne toast with the Bride and Groom and a cash bar is available.
The cruising musical comedy is priced at $55.00 per person, $35.00 for children 12 and under, price for registered hotel guest is $45.00, including tax and gratuity. Boarding begins at 6:30 pm at the Bahia Resort Hotel. Reservations are required and tickets can be purchased at or at http://www.onceuponaweddingthemusical.com
About the William D. Evans:
The William D. Evans is a beautifully handcrafted 99-foot vessel, which can accommodate up to 600 guests and provides all modern amenities while still maintaining nineteenth century grace and charm. The breathtaking upper deck ceiling is a stained glass vaulted skylight 42 feet long and 18 feet wide. The skylights radiant colors are created with over 50,000 pieces of imported European stained glass.
The Bahia Resort Hotel, located at 998 West Mission Bay Drive in Pacific Beach, is ideally situated on a wide stretch of white-sand beach and is owned and operated by Evans Hotels, the premier purveyor of resort accommodations throughout Southern California, including the Catamaran Resort Hotel on Mission Bay, and the Lodge at Torrey Pines in La Jolla. For more information on the Bahia Resort Hotel please call 858-488-0551 or go online http://www.bahiahotel.com.
###