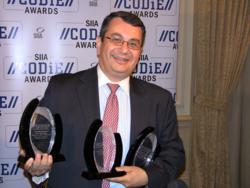 This is a great validation for the importance of school-centric application integration, identity management and ubiquitous access to online applications"Robert Iskander Founder & CEO of EduTone Corporation
San Francisco, CA (PRWEB) May 26, 2011
EduTone Corporation, http://www.edutone.com, a wholly owned Subsidiary of VIP Tone, is honored to be recognized by SIIA with 3 prestigious CODiE Awards for Best K12 Enterprise Solution, Best K12 Education Administrative Solution and Best K12 Education Solution.
The Software & Information Industry Association (SIIA), the principal trade association for the software and digital content industries, announced the winners of the 2011 CODiE Awards in the education technology industry yesterday. During a special awards reception and dinner, in conjunction with the organization's eighth annual Ed Tech Industry Summit, 30 winners were recognized for products and services developed specifically for the K-20 market.
The 425 nominated products and services were first reviewed by third-party judges, whose evaluations determined the 113 finalists. SIIA members then reviewed these finalists and voted to select the winners. The CODiE Awards, originally called the Excellence in Software Awards, were established in 1986 by the Software Publishers Association (SPA), now SIIA, so pioneers of the then-nascent software industry could evaluate and honor each other's work. Since being established in 1986, the CODiE Awards program has showcased the software and information industry's finest products and services and to honor excellence in corporate achievement.
"The large amount of growth seen in nominations across numerous education technology categories reflects companies' commitment to providing innovative, robust solutions that help to increase student achievement and more broadly, the education industry as a whole," noted SIIA President Ken Wasch. "On behalf of SIIA, I'm proud to congratulate EduTone Corporation and look forward to watching the education technology industry continue to evolve," Wasch continued.
"This is a great validation for the importance of school-centric application integration, identity management and ubiquitous access to online applications", said Robert Iskander Founder & CEO of EduTone Corporation, "the EduTone Xchange™ has the most extensive K12 education ecosystem on the market today, integrating more than 200 applications into a single services delivery platform. We are so honored and pleased to win these 3 major CODiE Awards, specially the most coveted Best K12 Education Solution category."
For more information about the CODiE Awards, visit http://www.siia.net/codies/2011/.
About SIIA
The Software & Information Industry Association (SIIA) is the principal trade association for the software and digital content industry. SIIA provides global services in government relations, business development, corporate education and intellectual property protection to more than 500 leading software and information companies. The SIIA Education Division serves and represents more than 150 member companies that provide software, digital content and other technologies that address educational needs. The Division shapes and supports the industry by providing leadership, advocacy, business development opportunities and critical market information. For more information, visit http://www.siia.net/education.
About EduTone Corporation
EduTone Corporation provides sustainable technology that schools need in order to deliver the 21st century teaching and learning environments their stakeholders require. The EduTone Xchange™ is a state-of-the-art, Web 3.0 Platform-as-a-Service technology that enables on-demand, one-to-one services delivery in the Education Enterprise. EduTone Corporation is a wholly owned subsidiary of VIP Tone Inc., a privately held corporation headquartered in Alameda, California. For more information, visit http://www.EduTone.com.
SIIA Communications Contact: Laura Greenback, 202.789.4461, lgreenback(at)siia(dot)net
EduTone PR Contact: Yanni Kalajakis, 866-901-8663 x9019, yanni(at)viptone(dot)com
###