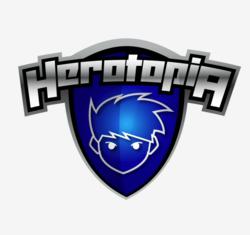 Recipient of the NAPPA Gold Award from the National Parenting Publications Awards, Herotopia offers kids a rich and engaging world for them to become their ultimate Superheroes
Cambridge, UK (PRWEB) May 25, 2011
Calling all Superkids! Jagex Games Studio, the UK's largest independent games publisher, in partnership with New York based developer Herotainment, today launched Herotopia, the free-to-play online game for children, with new content, activities and features. Herotopia offers a fun, vibrant, and safe environment for kids to play, socialize and live out their superhero dreams.
With today's launch, Herotopia unveils a new Mission System, giving players more than 75 challenging quests to complete and five new mini-games, including daily Power Puzzles that test their creativeness, skill and knowledge of the world around them.
Recipient of the NAPPA Gold Award from the National Parenting Publications Awards, Herotopia offers kids a rich and engaging world for them to become their ultimate Superheroes. Traveling to real-world locations such as New York, the North Pole, Beijing and Paris, kids visit iconic destinations from the Eiffel Tower to Rockefeller Plaza, completing quests, games and adventures along the way. In addition to global travels and the action-packed mini-games, every new Superhero also has their own Secret Hideout, a fully customizable hero base where they can meet with their in-game friends.
Mark Gerhard, CEO at Jagex, commented: "Herotopia offers a fantastically rich and fun experience which we know will appeal to the superhero in everyone. Herotopia is our first under 12 title and, with today's substantial update making Herotopia even more compelling, we are certain that the game has what it takes to be a huge hit with kids all over the world."
Caryn and Wade Teman, joint CEO's of Herotainment said: "When creating Herotopia, we as parents ourselves wanted to empower kids to be their own heroes and to get something more out of playing an online game than just a high score. The content update launched today is our largest to date and we are very excited to be teaming up with Jagex to make Herotopia the leading virtual world for children everywhere."
Herotopia is accessible to play for free on almost any internet enabled computer. An All-Access Superhero membership option is available for a small monthly fee, offering special features and privileges on top of the free game. These include the opportunity to buy accessories for the player's Secret Hideout, adopt an Orangutan Sidekick, acquire multiple Superpowers and Super Vehicles to travel around this exciting world as well as the ability to unlock and visit to the special imaginary location, Herotopia Island. An All-Access membership costs from $5.95 a month, a portion of which will be donated to children's charities, voted on by the Herotopia community.
To play Herotopia and find out more about the game, visit http://www.herotopia.com.
About Jagex – Just About the Game Experience:
Jagex Games Studio is a multi-award winning games developer and publisher based in Cambridge, England. Jagex specializes in the development of browser-based MMO's and is the largest independent games developer and publisher in the UK.
Jagex has a long-standing reputation for creating the world's best online games, for developing hugely popular, high quality, accessible, free-to-play games and for providing an unbeatable community experience for millions of players around the world. Jagex has developed and self-published over 40 online titles including the world's most popular free online multiplayer game, RuneScape.
About Herotainment, LLC
Herotainment, LLC is a New York based children's media and entertainment company. Herotainment develops interactive content that is fun, educational and rewarding. The company's flagship property is Herotopia.com, a dynamic, multi-player online game with engaging characters and story that will be the basis for books, mobile apps, an animated television show, licensed products and more.
For more information please contact:
Jagex Games Studio
Laura West, Head of Global PR
Adam Tuckwell, PR Manager
Email: laura(dot)west(at)jagex(dot)com /
adam(dot)tuckwell(at)jagex(dot)com
Tel: +44 (0)844 588 6607
Fax: +44 (0)844 588 6611
Jagex US PR
Dana Whitney
Email: dana(at)oneprstudio(dot)com
Tel: 510-893-3271
Herotainment, LLC
Caryn Teman
Email: info(at)herotainment(dot)com
Tel: 646-807-4550
###