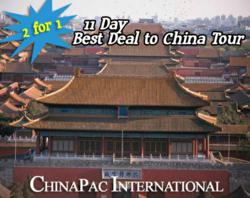 Vancouver, BC (PRWEB) May 26, 2011
Chinapac International is confident that their new promotion is truly the best deal out there they even named it the 2 for 1 - 11 Day Best Deal to China tour.
And why not?
With an elaborate itinerary that includes must-visit cities Beijing, Xian and Shanghai, this China tour is truly a steal – a full package with air, land and accommodation starting at just $3888 for two.
"Chinapac tours are always competitively priced all season but every now and again, we give extra opportunities for tourists to visit the land of ancient history," said Chinapac president Jenny Soares. "This promotion is certainly one of those times," Soares affirms.
This deal for two is aimed although not limited to first-time travelers who have been urging to explore China but just need a little push to do so. The program, whose departures have been gratuitously set at the time of year when the season in the orient is at moderate best, creates the perfect window to do just that.
Summarily, participants will set out to discover Beijing, marking off Tian An Men Square, Forbidden City and the Great Wall in Badaling from their list by Day 4. Guests will spend two more days in the capital for a round of visitations to the city's other prominent sites such as the Temple of Heaven, Summer Palace and the friendly Giant Pandas at the Beijing Zoo before departing for part two of this China tour.
In Xian, full day excursion to the Terra Cotta Warriors site to witness the ongoing excavation of these historic statues will be arranged before undergoing a tour of the Ceramic & Pottery Center. At night, guests will be treated to a sumptuous dumpling dinner and Tang Dynasty show.
Travelers will be roaming the urban districts of Shanghai on Day 8, allowing them leisure time to explore the bustling city and discover treasures in some of its famous shopping areas. A tour of Yu Garden, Shanghai Museum and the Carpet Factory will also be scheduled. Finally, participants will set out to visit the historical ancient water-town of Zhujiajiao to witness a historic and unchanged face of Shanghai.
In addition, this China tour is replete with other exciting highlights including a Peking duck dinner in Beijing, acrobatic show in Shanghai, not to mention the award-winning guides chosen to lead this exciting tour. Further, the program features centrally located 4 &5 star hotels, handpicked specially to accommodate the comfort and luxury needs of Canadian travelers.
For more information about 2 for 1 – 11 Day Best Deal to China tour, visit http://www.chinapac.com or call 1-800-661-8182.
Chinapac International specializes in travel service to China and the Orient and is proud to celebrate 26 successful years in the travel industry as the premier travel package tour operator to the People's Republic of China and South East Asia.
###