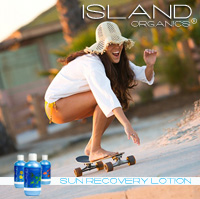 Miami, FL (PRWEB) May 26, 2011
According to Datamonitor, in North America & Europe, its after-sun products that's begun leading the growth in the sun care sector since in 2009. That trend continues today as the emergence of after-sun lotions coincide with the continued awareness of sun protection and skin cancer prevention. Historically after-sun lotions compete within the sun care industry as complimentary products to sunscreen lotions. New research shows that consumers are now equally concerned with post-sun care and sales are growing internationally.
Island Organics is one specialty brand that is quickly being recognized in this unique market. The benefits of their sun recovery lotions go beyond standard moisturizers and the green bottles of aloe that line drug store shelves. These exceptional lotions are first based in organic Aloe Vera leaf juice. Then they infuse organic tropical butters and six exotic extracts traditionally used in island cultures for the treatment of sun damaged skin. Additionally, their moisturizers are never tested on animals and avoid Nanoparticles that may be toxic to human tissue and the environment.
Island Organics President, Kelsy LaTouf, says "We always recommend using a quality sunscreen and to cover up while outdoors. However, it's inevitable that your skin will be exposed to the suns harsh elements. We specifically focus on nourishing the over exposed skin cells of our sun-loving consumers". Their variety of specifically crafted moisturizers includes Mangosteen, Tahitian Vanilla and Toasted Coconut. These are easily absorbed to prolong the hydration of the body's skin that is stripped of essential vitamins and nutrients after prolonged sun exposure.
Standard sun care brands are dealing with price wars, over saturation, and competition amongst themselves along with big-box retailers. Island Organics boutique style of products focuses on consumers that are trading up to higher levels of quality products when it comes to their overall health. Island Organics' consumers have a very active outdoor lifestyle. Luxury resorts, cruise ships and lifestyle hubs such as beach & surf retailers are taking notice of these heath conscious consumers. Retailers have to find creative ways to differentiate themselves by offering distinctive products in many categories. Only then will they begin to unlock value beyond increased sales numbers that reflect their own image and business culture.
Island Organics Sun Recovery Lotions can be purchased online at IslandOrganicsLotions.com and Amazon.com. These products retail at a moderate price of $18.70 and wholesale information may be requested through their website. For any additional information contact Sport & Resort, Inc. at 1-800-870-2082.
About Island Organics: The Island Organics brand is owned by Sport & Resort, Inc. Their desert island location is Las Vegas, NV, with additional office cabanas opening in Miami, FL and Southern California during 2011.
###