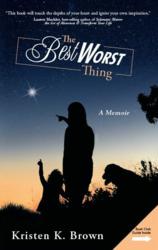 I never thought I would survive something like this. But now that I have, I know that this best worst thing has made me a better mom, relative, friend and citizen. All I can hope for now is to inspire others to find their inner strength too!
Minneapolis, MN (PRWEB) May 25, 2011
Kristen K. Brown's debut memoir, "The Best Worst Thing," was released on Tuesday, May 24th. Within hours her book landed on the Amazon bestseller list and she captured the #1 spot on the Amazon Movers and Shakers page for the biggest gains in book sales rank over 24 hours.
Through the sadness, guilt and anger came a new strength and conviction she never knew she had to find her purpose and joy for life including starting her business, Happy Hour Effect, and launching WidowMommy.com with a goal of helping others overcome their own challenges. The Best Worst Thing, chronicles her bittersweet journey that can only be called a crazy "adventure" through grief that led to her complete transformation. It is a story that captivates readers from page one with tears, hysterical laughter, perspective and true inspiration. Plus a portion of book sales will go to heart health research. Watch the book trailer here: http://youtu.be/WUfCxjgXtg0
"I am amazed and grateful to fans for embracing this book. It means that my late husband will continue to live on and impact the world in a positive way." Kristen states.
"The Best Worst Thing" is an amazing story of this 34-year-old widow, mother, bestselling author, award-nominated entrepreneur and radio host, who's found a way to successfully take tragedy and manage the stress and change that goes along with it. Kristen takes her readers on a heartbreaking and inspiring journey through loss, that's led her to a happy new career and life for her and her daughter. And in memory of her husband, Kristen will donate a portion of the proceeds from the sale of the book to heart health research.
Kristen will be touring live and virtually through the next several months. To book an interview, event or appearance, please contact: mediarelations(at)happyhoureffect(dot)com
"The Best Worst Thing" will be available through Amazon.com, Barnes & Noble online and can be ordered through bookstores. Retailers and libraries can order through Baker & Taylor, Ingram, Bowkers BooksInPrint, Bertram Books and Nielsen Book Data or through the publisher:
Balboa Press-A Division of Hay House
1663 Liberty Drive
Bloomington, IN 47403
1-(877) 407-4847
ISBN: 978-1-4525-3310-0 (sc)
ISBN: 978-1-4525-3311-7 (e)
Library of Congress Control Number: 2011903299
About the Author: Kristen Brown is a widow mom, bestselling author, award-nominated entrepreneur, radio host and speaker. She founded Happy Hour Effect LLC to help people manage stress and recently launched WidowMommy.com to support other young widows. She and her four-year-old daughter live in Minneapolis with their 85-lb black Lab who thinks he's a lap dog. To learn more about Kristen and her work please visit: KristenKBrown.com.
# # #