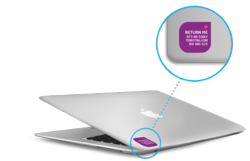 No matter where Dad travels, around the world or throughout the neighborhood, TurlyTag increases the likelihood that his treasured things that go missing will be returned, easily and privately. Turly Tag is a thoughtful Fathers' Day gift, peace of mind
(PRWEB) May 31, 2011
Father's Day is just around the corner and millions of lucky Dads will receive "that special gift" from loving family members and special friends (No – not a tie). The National Retail Federation (NRF) and BIGresearch annual survey reveals that Americans will spend over one and a half Billion dollars on electronics gifts for Dad this year. The anxiety, effort and cost to replace that beloved gift, if lost, weren't intended to be included with the gift. But each year, millions of portable electronics, and other personal valuables and gifts, are lost, stolen, or accidentally left in hotels, restaurants, rental cars and other public spaces. Accenture estimates that 10 to 15 percent of all hand held computers, PDAs, and mobile phones are eventually lost by their owners. TurlyTag provides peace of mind by making it faster and easier to get those valuables back when they're lost, protecting the privacy of the owner, and advocating on the owner's behalf throughout the entire process.
TurlyTag takes the pain out of getting missing and valued possessions back, and plenty of those valued possessions are missing, and waiting to be returned.

12 thousand laptops are lost at U.S. airports every week, 60 thousand each year – 70 percent of those turned in to a lost and found are never reclaimed (Ponemon Institute and Dell computer)
More than 3 million lost bag reports were filed at U.S. airports in 2008 (Air Travel Consumer Report)
"You can't stop a thief, but you can make it easier for a decent person to do the right thing," says Seth Price, identity expert and founder of TurlyTag. "Most cell phones, PDAs, ipods, laptops and cameras contain person information that would be very difficult to replace. Reconnect with the things that you love and want to get back and take the pain out of the process by using the TurlyTag system."
Turly Tag is an identification and return service for your favorite things. The process is easy and private.

Step 1: Tag your electronic gifts and other valuables with Turly Tags (your personal information is kept private)
Step 2: Tell TurlyTag how to reach you when your valued possession is found (the finder contacts us using TurlyTag information)
Step 3: TurlyTag arranges the return of your valued possession – pronto!
About TurlyTag
Turly Tag is the premium provider of services that address the human side of identity protection. The TurlyTag system is expert service that handles the identification and logistics required to get back personal valuables and valued possessions when they are lost and found, maintaining the owner's privacy throughout the process. TurlyTag provides coverage for technical devices such as PDAs, laptops, mobile phones, cameras, headphones, e-readers, and other valuables such as keys, luggage, purses, sports equipment, backpacks and the like. Privacy Expert Seth Price founded Turly Tag after personally experiencing the pain of losing portable electronics as a road warrior while providing identity protection services to clients that include some of the largest insurance carriers in the United States. For more information about Turly Tag, visit http://www.turlytag.com.
###