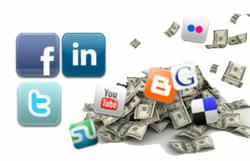 I don't want you to miss the boat when it comes to generating results in your Social Media..Let's do it right and effectively
(PRWEB) May 25, 2011
Want to become confident and gain real results with Social Media? Feeling "too late" to get started in Social Media?  Want to find a better way to gain more followers, friends and connections in Social Media without using paid services? Want to learn more Social Media tips and techniques to boost Online and offline business while getting an edge on the Competition?  When it comes to using Twitter, LinkedIn, Facebook or Social Media as a whole, anyone can do it. The problem is most people aren't doing it effectively.  Many entrepreneurs and small business professionals are great at what they do.  They want to be able to show real results using Social Media to grow their business, but lack the skills needed to get new leads that become customers. 
Winston Bromley, from The Social Media Breakthrough, has the secret to generating more qualified leads that convert to customers within a 15 minute a day routine, when using his results-driven Social Media system.  He mentions that Social Media is one of the most cost-effective, simplest marketing tactics out there and is here to stay. "I want you to learn about it," Winston says, "because your competition is already doing it. Don't get left behind." Winston has helped his clients gain large online presences from building traffic and leads through his Social Media techniques and natural sales cycles. By following his plan,  clients have been able to  attract more followers, friends and contacts organically.
"It all revolves around understanding what your ideal Social Media friend/follower/connection want and who they are." Winston says.  "Even if you are just starting out and don't understand Social Media or you are an experienced Social Media user, I don't want you to miss the boat when it comes to generating results in your Social Media. Let's do it right and effectively.  I can teach you to become confident in Social Media  and get results in less than 15 minutes a day, while attracting more people to follow your Social Media profiles, which will lead to sales."
His teleseminar, "5 Simple Secrets to Social Media: Learn how, with 15 minutes a day, you will boost your business and get the edge on your Competition", (on Thursday June 2, 2011, 8 p.m. ET) is free with limited availability.  Interested people need to sign up fast!  By doing so, the individual will learn to how to use social media, in less than 15 minutes a day, to gain new followers, crafting great content that leads to more sales, how to triple the sales conversions on any website and much, much more.
"I've built successful social media campaigns for my clients by applying what I know over and over again. And now I've got it down to a system of steps that I follow.  Not knowing this used to cost me pain and frustration, not to mention thousands of dollars a month, but I'm going to teach it to you so you can quickly learn from my mistakes."
Winston has a great track record for success in the online world.  Just ask his clients, many of whom were not getting any real tangible results from social media. That is, until they met Winston.
Real Estate guru "Rich Mom" Savannah Ross has said that before teaming up with Winston, the technical demands of their business had them so flustered that they considered walking away from their business.  With Winston, however, they stuck it out and it took Rich Mom to the next level.
Check out "5 Simple Secrets to Social Media: Learn how, with 15 minutes a day, you will boost your business and get the edge on your Competition," Thursday, June 2nd, 8 p.m. (EDT).
Here's the link to sign up…
http://www.5secretstosocialmedia.com
###