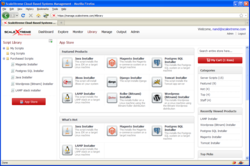 Palo Alto, CA (PRWEB) May 25, 2011
ScaleXtreme, Inc., the first cloud-based systems management company, today announced the general availability of its early access product. Systems administrators and IT operations professionals who are interested in trying out a new way of managing their internal servers, new public cloud machines on Amazon EC2 or any other provider, can go to http://www.scalextreme.com, and create a free account to start using the product today.
ScaleXtreme is a cloud-based systems management product, which for the first time allows systems administrators to manage all of their servers from a single place in the cloud. ScaleXtreme provides unified management of all of an organization's servers – spanning private and public cloud machines, different public cloud providers running on any virtualization platform, and even physical machines. Additional features include "live browse" of machines, one-to-many operations on the file system, inventory, monitoring, and script-based automation across multiple machines.
ScaleXtreme's product is a compelling alternative to the existing on-premise systems management market – currently dominated by vendors such as BMC (Bladelogic), IBM, CA, and HP (Opsware), and open source products like Puppet Labs and Opscode. Unlike these products, which require months of complex implementation work, ScaleXtreme can be deployed in minutes. In sharp contrast to these vendors, which are extremely expensive, ScaleXtreme offers subscription and per-hour pricing models that are tailored to fit the current use of virtualized and public cloud machines.
Also available is a new "App Store" for scripts that allows systems administrators to download and publish their own scripts from a common store in the cloud. The App Store is closely integrated into the service itself, enabling users to select a script from the App Store and have it automatically appear in the product - no downloads, uploads, or complex handling of files.
ScaleXtreme early access is free, with a paid licenses and per-hour subscriptions available when the final product ships.
About ScaleXtreme
ScaleXtreme is building the next generation of systems management products delivered as a cloud service. Built from the ground up to be simple, scalable, and social, ScaleXtreme's product aims to transform the way IT admins manage their Amazon EC2, VMware virtual machine and physical server deployments. ScaleXtreme was founded by a team with deep expertise in enterprise software and systems management, including Bladelogic and VMware, and is backed by Accel Partners.
Press Contacts:
Nand Mulchandani
nand(at)scalextreme(dot)com
(877) 972-2539
Mark Floisand
mark(at)scalextreme(dot)com
(408) 775-5187
###