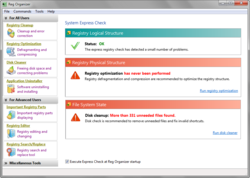 (PRWEB) May 26, 2011
ChemTable Software has released a new version of a system utility, Reg Organizer 5.20 that features the full specter of tools for cleaning, optimization and tuning up of the system and the system registry. The program includes such tools as a registry editor, registry cleanup, optimization and compression, a tool to create and compare registry snapshots, a tool for complete removal of programs from the system and others.
The new version of Reg Organizer features an entirely rebuilt removal tool; now it is a unified list of all applications installed in the system, and a user can easily uninstall any of them. If a certain program was installed under Reg Organizer's control the procedure will also revert all changes this program has made to the system during installation. This allows returning the system back to the state preceding the installation of this application. A special Reg Organizer agent can automatically monitor the execution of setup programs, and if such launch is detected, it offers to install that application under Reg Organizer's control. Such approach prevents future cluttering in the system, because the program being installed can be easily and completely removed.
Also, a tool to create and compare registry snapshots was also improved. With this tool you can find changes made to the system between two checkpoints (snapshots) and roll back those changes to a previous state if needed. This is helpful when you want to analyze the activity of some untrustworthy application.
Besides, the new version of Reg Organizer has many other changes making the use of the program even easier than before. For instance, in the registry and disk cleanup modes an indicator is added that helps you to estimate how long it will take to complete the cleaning process. In the registry editor, positions of various commands to work with favorite records have changed; now all favorites' commands are concentrated in the same place.
###