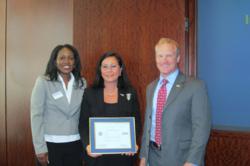 Our office, both locally and nationally, is proud to support our troops and their families!
Atlanta, GA (PRWEB) May 27, 2011
Georgia Employer Support of the Guard and Reserve (GA ESGR), an agency of the Department of Defense, announced that Merrill Lynch Wealth Management, a part of Bank of America, was honored with a 'Patriot' Award for support of its employees who serve in the Georgia National Guard and Reserve. Alane Siem, Merrill Lynch Wealth Management Buckhead Complex Director, accepted the award on behalf of Merrill Lynch during a ceremony on May 12, 2011 at 3455 Peachtree Road NE, Suite 1000, Atlanta, GA 30326.
Sgt Jason Greene of United States Marine Corps Reserve and Financial Advisor with Merrill Lynch Wealth Management nominated his company because of its supportive policies. Sgt Greene said Merrill Lynch kept in touch with his wife and children during his period of deployment.
The "Patriot Award" is the first of the sequential and progressive employer awards program. It is intended specifically for the recognition of individual supervisors or the employer organization as a whole. Patriot Award nominations may come only from Reserve component (RC) members or their spouses/immediate family members. Nominated employers receive a Patriot Award certificate and accompanying lapel pin. For more information on awards, visit the ESGR national website at http://www.esgr.mil.
"Our business and our culture at Merrill Lynch Wealth Management are designed to support our Financial Advisors both professionally and personally. We value all that they have to offer, and we are incredibly honored that Sgt. Jason Greene nominated us for a Patriot Award; we accept this esteemed award with the utmost pride and admiration. Our office, both locally and nationally, is proud to support our troops and their families!" said Siem.
As the 1.3 million members of the National Guard and Reserve continue to perform an increasing number of unique missions with America's borders and beyond, ESGR will continue to be the resource for the employers of citizen warriors. ESGR provides education, consultation, and if necessary mediation for employers of Guard and Reserve employees. More information about ESGR Employer Outreach Programs and volunteer opportunities is available at http://www.esgr.mil, or by calling 678-569-5738.
###