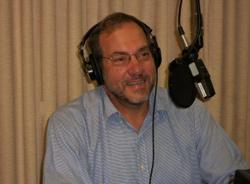 As issues in the Middle East continue, we encourage our Australian listeners to stand by Israel.
Chicago, IL (PRWEB) May 27, 2011
Rabbi Yechiel Eckstein, founder and president of the International Fellowship of Christians and Jews, can now be heard on Christian radio stations throughout Australia on his daily broadcast, Holy Land Minute, which debuted earlier this month.
The program is airing on Vision Radio Network, Australia's largest Christian radio network. Vision Radio, also known as UCB (United Christian Broadcasters) Australia, has over 470 relay stations across the continent, reaching some 200,000 listeners each week.
The daily radio program is adapted from Rabbi Eckstein's highly successful Holy Land Moments that airs on 158 Christian radio stations in the United States, Canada, Guam, New Zealand, Aruba, and the United Kingdom. Rabbi Eckstein, who has built IFCJ into the world's largest channel of Christian support for the people of Israel, talks about important issues facing Israel today, provides insight into the Jewish faith, and helps Christians to discover the Jewish roots of their faith.
"We're happy to be airing Holy Land Minute on the Vision Radio Network," Phil Edwards, Director of Media Content, said. "As issues in the Middle East continue, we encourage our Australian listeners to stand by Israel. We look forward to working with the International Fellowship of Christians and Jews in the days to come!"
The daily broadcast is a result of Rabbi Eckstein's vision to build bridges of understanding between Christians and Jews. An Orthodox Jewish rabbi, Eckstein founded The Fellowship nearly 30 years ago to foster cooperation between the two faith communities and build support for Israel and Jews in need throughout the world. The Fellowship has raised more than two-thirds of a billion dollars, largely from Christian donors, to help needy Jews in Israel and throughout the world.
"I have spent the past three decades finding places of healing, encouraging connections, and improving the relationship between these two communities of faith. Holy Land Minute is one of these efforts and is a result of this calling," Rabbi Eckstein said.
The author of six books and featured in hundreds of articles in the United States, Israel and worldwide, Rabbi Eckstein has received numerous awards and honors, including Israel's first-ever Award for Special Contribution to the Welfare of the People of Israel in 2010. For the past two years, Rabbi Eckstein has been named one of the most influential rabbis in America by Newsweek magazine (#18 in 2011) for his work in creating and building The Fellowship. In 2005, he was appointed Goodwill Ambassador of the State of Israel, with special emphasis on Israel's relationships with evangelical communities in Latin America.
The Holy Land Moments show debuted in September 2010. The program's website, http://www.HolyLandMoments.org, includes free downloadable Bible studies, a daily devotional available online or via email, and a "Hebrew Word of the Day" feature. Both Holy Land Moments and Holy Land Minute are produced and marketed by Westar Media Group of Colorado Springs, CO.
The International Fellowship of Christians and Jews (IFCJ), headquartered in Chicago and Jerusalem, was founded in 1983 by Rabbi Yechiel Eckstein for the purpose of building bridges of cooperation and understanding between both faith communities and together supporting Israel and Jews in need throughout the world. To date, the IFCJ has raised two-thirds of a billion dollars to support programs aiding the sick, elderly, orphaned and at-risk populations in Israel, the former Soviet Union, Ethiopia, India, Latin America, and Arab countries. For more information about IFCJ programs and projects, visit http://www.ifcj.org.
###