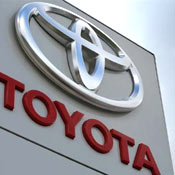 Naperville, IL (PRWEB) May 31, 2011
Federal auto safety regulators have closed an investigation of complaints about the electronic steering in the model year 2009 and 2010 Toyota Corolla.Dan Wolf Toyota of Naperville- the leading Toyota dealership in the Midwest proudly sells many new and used Toyota Corolla vehicles.
According to the Natiional Highway Traffic Safety Administration,the investigation into the electronic steering in the Toyota Corolla found "no electronic-related steering defects that would compromise safety."
"The investigation lasted nearly 15 months and also include the Toyota Matrix and covered over 750,000 vehicles," according to the NHTSA.
Toyota knows that this news will be a significant boost for the company as it regains consumers and trust after the questions about the electronics in Toyota vehicles. The NHTSA and NASA found "no electronic-base cause for unintended high-speed acceleration in Toyotas."
Toyota of Naperville in Naperville, Illinois carries over 600 vehicles in their lots including both new and used Toyota vehicles. As the largest Toyota dealer in Illinois Dan Wolf Toyota is the leader in Toyota sales for the Chicago area.
###