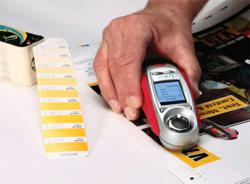 Vernon Hills, IL (PRWEB) May 25, 2011
Cole-Parmer introduces their Compact Color Meters―ideal for checking painted surfaces, plastics, graphics, paper, textile, pharmaceuticals and cosmetics plus food and agriculture. Meters containing a sapphire window offer extra protection for the color sensor.
The devices store readings in memory and recall readings on the display. Select color meters include software to enable users to manipulate and analyze data—download stored measurements through the USB port, create reports, upload standards, and create color libraries for automatic closest-color searching. The software includes formulas for CIELAB, Hunter Lab, CMC, LCh, and CIE94; it also calculates whiteness/yellowness indices, opacity, brightness, and delta E.
To find out more, call 800-323-4340 or visit ColeParmer.com/8549.
Cole-Parmer has been a leading global source of laboratory and industrial fluid handling products, instrumentation, equipment, and supplies since 1955. Our product lines, including popular brand names such as Masterflex®, Oakton®, and more, are sold through company-owned customer channel outlets and a strong network of international dealers. We also feature an ISO-17025-accredited metrology lab for instrument calibration and repair. Cole-Parmer responds with excellence to customer needs, and offers application expertise and technical support. For more information, contact Cole-Parmer, 625 East Bunker Court, Vernon Hills, IL 60061. In the U.S., call 800-323-4340. International customers, call 847-549-7600. Visit us at http://www.coleparmer.com.
# # #