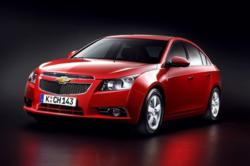 San Antonio, TX (PRWEB) May 31, 2011
Tom Benson Chevy in San Antonio knows that when gas prices are high, people are always looking for ways to save some money. The new 2011 Chevy Cruze is an engineering masterpiece when it comes to fuel economy. General Motors has looked at every little inch of this car to see where they can save fuel, even the fuel pump. The Chevy Cruze relies on microprocessors, which are in the car's fuel system to help it save on gas.
The Cruze features an Electronic Returnless Fuel System, which increases fuel economy by 2 percent compared to other vehicles with a standard fuel system, said Terry Wilton, General Motors' senior manager for fuel system components.
For Chevy and all of the Cruze fans, the compact car is a life-saver. The Cruze Eco model with a manual transmission receives an estimated 42 miles per gallon on the highway. This rating is the best among all compact vehicles.
"We've combined a lot of technologies on the Cruze to offer customers hybrid-like fuel economy without the cost of the hybrid system," Wilton said.
The new Electronic Returnless Fuel System has a microprocessor that electronically manages the delivery of fuel from the tank to the engine. The fuel system/chassis control model is essentially the brain of the fuel system in the Cruze and this controls the entire system. The control model is able to raise or lower the pressure in the fuel line by speeding up or slowing down the fuel pump. The system is able to make better decisions on how much fuel needs to be provided to the engine, which enables more efficient fuel economy. On a regular vehicle with a standard fuel pump, the fuel pump runs full speed all of the time.
By reducing the amount of fuel that goes through the pump, the Cruze doesn't use any excess fuel, thereby resulting in greater fuel economy. This translates into a much more efficient vehicle and reduces the load on other areas of the car as well.
San Antonio's Number One Chevy dealer, Tom Benson Chevy sells many new Chevy models as well as used vehicles. Tom Benson Chevy has a very diverse selection and the sales staff there will be happy to assist you in all of your car purchasing needs.
###