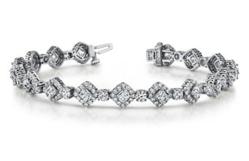 San Diego, CA (PRWEB) May 25, 2011
Anjolee announces several new exciting additions to their red carpet bracelets category. These red carpet bracelets features larger quantities of diamonds set in elaborate, double or triple row designs.
The first new red carpet tennis bracelet is the 'Spotlight Princess Cut Diamond Bracelet' Style # SB859-A. Options for customization on this diamond tennis bracelet include choice of three sizes; ranging from 5.92 - 8.25 carats, choice of metal type; white gold, yellow gold or platinum and length. There are 210 to 252 sparkling diamonds in a standard seven inch length of this lovely red carpet ready diamond tennis bracelet. This radiant bracelet can be bought for as little as $3,800.
The second of the new tennis bracelets is the 'Stylish Circles Diamond Bracelet' Style # SB848-Dia. Available in 4.98 to 7.24 of total diamond carat weight, a center diamond is set in a circle shaped link with a diamond filled bucket shaped link on either side. Each link has three parts; two side sections lined with small, round diamonds, with a circular center section and a larger round diamond set in the middle. Each center diamond appears to be floating within the link. Starting price is $3,800 for an exceptional bracelet, perfect for a wedding, opera or special event.
The third addition to the red carpet category, is the 'Round and Princess Diamond Bracelet' Style # SB868-A. Between 6.61 and 10.58 carats of round and princess cut diamond ensure maximum sparkle in this tennis bracelet design. Each bracelet contains 245 to 285 diamonds depending on the carat size you choose. A prong setting holds each stone secure. The design is elaborate, with a row of princess cut diamonds down the middle, flanked by two round diamonds per link. A quarter inch minimum in width, so it can be worn without feeling too heavy. Starting from $4,500, this extraordinary bracelet adds glamour to the wrist and will sparkle any way you look at it!
In addition to these diamond tennis bracelets, Anjolee also carries a complete line of classic tennis bracelets, vintage diamond bracelets, and designer bracelets. Each collection has hundreds of designs to choose from so there is literally one for every kind of style!
###